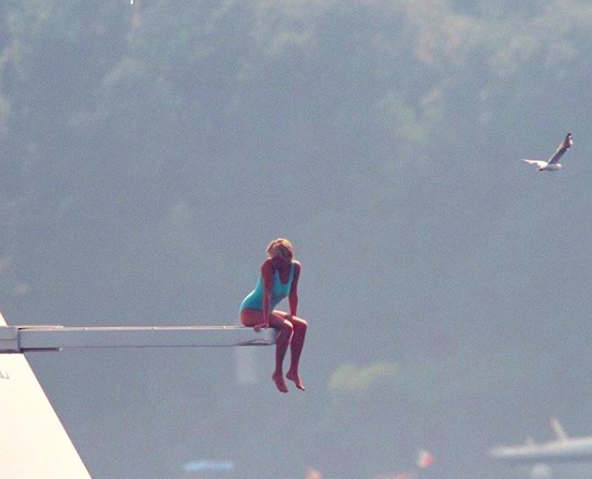 I was in Alexandria when I first saw photos of Princess Diana in her sky blue one-piece swimsuit and her St. Tropez tan, playfully embracing a hairy chested, billionaire by the name of Dodi Al Fayed.
Photographs of them were plastered on the front of all the newspapers in Egypt. We got a glimpse into their intimate moments on a mega-yacht somewhere in the South of France. Overnight she had become a make-believe bride and the Egyptians were proud that she had chosen to be with one of their own. As naive as I was 21 years ago, I knew it wouldn't end well. There was too much glitz, Ritz and playboy-style antics for it to go anywhere.
On my return to London from Cairo I went through several weeks of non-stop idle partying and saying my farewells to my friends, colleagues, acquaintances and the transient crowd that frequented the same spots as I.
There was a feeling of sadness and panic as August was slipping away. I knew it was to be my last summer in London. In a few weeks I'd leave everything and everyone I knew behind and make my home across the ocean, on the other side of the world, in the United States of Everything.
It was the August of no return. The two golden Medusa heads on my Versace handbag one on each side of the strap were my silent guardians and watched as I slept most of the day and gallivanted from coffee-shop to restaurant to bar and nightclub, in that order, night after night.
August 31, 1997 was a balmy night, like any other in London. When my friends and I left Iceni, a plush nightclub in the heart of Mayfair, the cosmo-crowd were still throbbing inside. We left in a daze of cigarette smoke and perfume, high-heels and hairspray, laughing, intoxicated with the euphoria of another night drawing to a close.
Instead of going to Bar Italia with the rest of our gang, my friend Azita and I said our goodbyes to them. We a hailed a taxi and went to Azita's house in Chelsea. I'd promised I'd stay at her place for night or two. Who knew when we'd be able to hang out like this again.
We lowered our voices as we entered her bottom flat quietly so as not to wake-up her parents upstairs. Like children we reenacted our earlier dance moves and giggled as we made our way to her bedroom. There we would rehash the night's main themes during our extensive make-up removal ceremony.
Just as I soaked a cotton ball in eyemake-up remover and wiped off what looked like impenetrable soot from one eye. We heard a knock at the door. It was Azita's father. We thought it's because of all the noise we'd made. Instead he opened the door and stood in the doorway, unfazed about what time we'd got back or the noise we were making. And said "They killed her."
………………………..