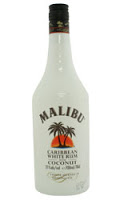 A Tale of Two Rums
The Malibu rum bottle was my icon. She embodied the life I longed for. The commercial on TV showed a group of bronze beauties with corkscrew curls, moving to Caribbean beats against the backdrop of an orange sun in the horizon. A man with dreadlocks, sitting on the beach would take a sip of Malibu, look at the camera, and in a heavy Jamaican accent, say, "Malibu, the taste of paradise." I could almost inhale the fragrance of coconut from the palm trees, and feel the salty sand from the ocean, between my toes.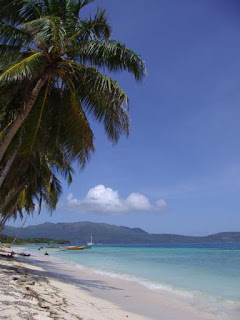 It couldn't have been further from my reality. The weather outside was as grim, as a scene from a Charles Dickens novel. The rain drizzled permanently. It lacked the majestic ferocity of a monsoon; instead, the constant weak mist that fell from the dark sky, left a moist residue on my hair and my heavy mascara. Like glitter it also left shimmery dew on my face. As I stepped out, leaving the comfort of my home, I huddled and tried to keep the warmth inside my coat. We faced the unknown; it was another night out.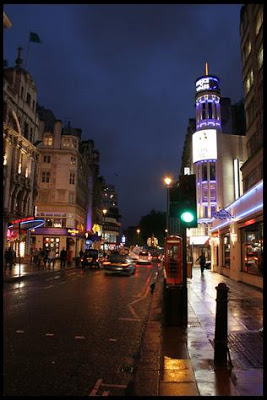 It had taken us almost three hours to get dressed in my box room, the size of a coffin. There was enough room for one person to get dressed at a time. The others sat patiently on the bed and waited. The only benefit of this was, you'd get instant feedback like, "Wear it with the suede shoes instead." To avoid suffocation from cigarette smoke we had to open the windows and shivered as we tried on our mini-skirts. We warmed one hand by holding on to the central heating next to the bed as we smoked with the other. From the street outside our silhouettes and animated gestures must have looked like a shadow play.
Priya took the longest with her hair, even though she had natural curls. Our combined make-up would be laid out on my purple dresser: MAC, YSL, Christian Dior and Lancôme. We shared our make-up but guarded our individuality through our choice of perfume. We'd never tread on each other toes by wearing the same fragrance.
Anita always had perfectly painted nails and lips. She painted them in slow motion with Chanel's Rouge Noir, (before Uma Thurman wore it in Pulp Fiction). She was only bold with her make-up and needed encouragement from the rest of us, to show her curves. This time she gave in and wore my black Whistles dress.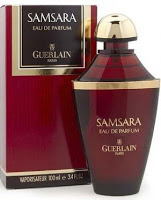 London was cloaked in a velvety blur of grey. The wet pavements and nicotine color headlights led us to the Tube. As we walked passed Raj, the Indian restaurant, the aroma of Tandoori Chicken met our combined fragrances. My perfume of the month, Samsara had seeped deep into my skin, and left its mark on me. From the advice that I had given my customers at Harrods, I layered my fragrance with matching shower gel and body lotion. I was a walking tribute to Samsara, which appropriately meant wanderer in Sanskrit. Within the realm of karmic law, there were no coincidences. We walked into the corner shop, and bought a back-up pack of Marlboro lights and wine gums.
It took us 45 minutes on the Piccadilly line, to make it to Stringfellows where the scent of Fahrenheit mingled with Arabian oude. Patrons would make it past the velvet rope, in search of hope. The Stringfellows butterfly shined in neon lights above the discreet entrance and beckoned me to fly away with her.


I longed to be her. My bad fashion judgment trickled into other areas of my life. Apart from my one good purchase; my black crushed velvet knee-high boots from Russell & Bromley, my 20's was a haze, nothing was clear.
My naturally straight hair had been transformed into a Diana Ross style hairdo with half a can of Rock hairspray and half an hour of upside down hair drying, that made the blood rush to my over-bronzed cheeks. I held my hair up in a scrunchie (to hold the waves in) until we stepped out of the Tube station. My use of hairspray was singlehandedly responsible for at least half of the hole in the ozone layer. The other half was caused by Priya; my best friend.
Once in, my friends and I would take our Miss Selfridge coats off at the cloakroom and make our rehearsed entrance down the grand staircase. We were one step closer to being free. With one sip of Malibu & pineapple we were on our way to sweet hedonism. As the music echoed in my eardrums, thoughts of my string bikini and sun scorched-skin from my last "Oliday" made me believe I can make it through another September. It was my black period. Apart from my signature blood red lipstick (Tres Tres Dior), I was seen in no other color for years.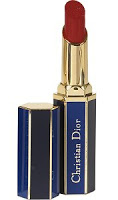 Inside the VIP area, the members greeted other members they had seen last night at SW3. They'd hug each other like they hadn't seen each other for years. Then they'd outdo each other by ordering bottles of champagne, for the next table. Their insecurities were being disguised as Middle Eastern hospitality. When the initial formality and greeting period was over they would take off their Ferragamo loafers and stretch out their argyle socks on plush sofas, to show the non-members, how at home they felt.
Around every table there was a loser who was actually paying for the stuff. He was the one that couldn't bring in the crowd unless he paid. You'd spot him because although he was spending thousands a week, in all the upper tier clubs around London, there was something Third World about him. Although he was wearing Cartier glasses, he still looked like he was plucked out from a shopping mall in Libya, Cairo or Bahrain. You'd know because of the silk Versace shirt. It was loud and screamed foreign money, even under the flashing disco lights.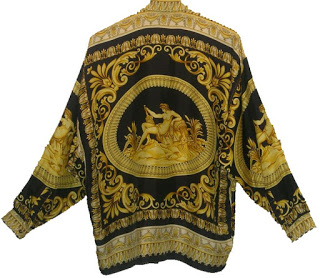 Everyone else around the table was living off a heavy dose of wire transfers, sent from back home, into their Marylebone Barclays bank accounts. Their monthly allowance was a shop girl's annual salary. It paid for their Knightsbridge lifestyle. Harrods and Harvey Nicks, is where you shopped, Quaglinos and Ivy is where you dined, Whitley's is where you went to people watch, Pellegrino is where you sipped your cappuccino and Stringfellows and SW3 is where you partied. The Garden is where you went on Sunday afternoon. Wednesday nights it was L'Equipe Anglais. Unhappy hour was at Henry J Beans on Kings Road. Everyone seemed bored everywhere, it was routine.
Did I mention, that the reason they were there in the first place was to get an education? Usually at an American University. The fees were high but the classes were a breeze.
Also around the table were a few sycophants. Some were court jesters and provided entertainment. Others were more like employees than friends, and lived the good life, for the price of doing the things that the others didn't want to do. They'd make reservations, pick up the dry cleaning, make sure there was plenty of alcohol back at the flat and manage the girls and the entourage. Like parasites they lived off everyone else, made their masters feel important and got the leftover "Girls".
The "Girls" were a permanent fixture and would circulate from one group to another. Last month Cindy, Michelle and Sophia were with the Emiratis, this month they're with the Indians, and next month they'll be the Italians (that everyone knows are Iranian). Remy, Sheila and Leila were with the Nigerians last month, this month they're with the real Italians and next month they'll be with the Lebanese. Beneath the mirror disco ball was the United Nations of "Partydom" and its Kofi Adnan was the DJ.
Stringfellows was a place for the older crowd. We were voyeurs into this world of sleek and chrome. A change from the trendy trendy Ministry of Sound, where everyone looked they had stepped out of a magazine. Here we got to witness flash. And for a few hours we were part of the rich crowd.
I didn't belong in any group, especially not with my own kind. We were the eclectic dreamy drifters. We were not part of any entourage or plan. We floated aimlessly in a transient world that only the young can afford.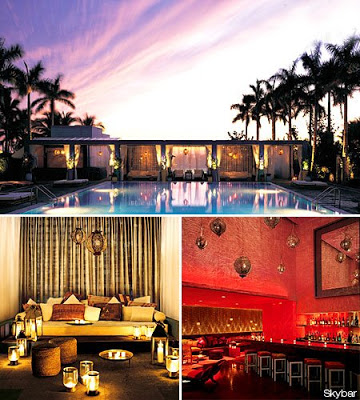 Many years later, I made my home half way across the world, in Miami, the land of sun, sea and skin. Like the native orchids that flourish there, I lived off the air and didn't need soil to be rooted. Everyone, like me was was from somewhere else. I'm at Sky Bar on a warm September night. I'm standing under the intricate patterns of light that shine from the hanging Moroccan lamps. The balmy breeze of the Atlantic Ocean; a few steps away, sway the white muslin sheets draped on the canopies. The crowd is mix of South Beach meets Ibiza with a dash of Kendall. The moonlit sky is clear.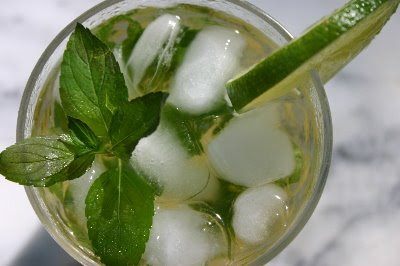 I'm dressed in head to toe white, with strappy silver heels, a clean ponytail on just washed, "product free" hair and barely-there, full make-up. As I lean against the bar, I catch a glimpse of the white opaque Malibu bottle sitting on an upper shelf, above the bartender. Like a friend that I've outgrown, familiar strangers, we nod at each other and hold our gaze for a moment, before I look away. We've come so far. I smile as I take a sip of my minty rum Mojito. It tastes like paradise.