Sabi Says founder, fashion columnist and style expert Sabrina Azadi bridges the gap between fashion trends and things women can actually wear, proving that great style goes beyond the cat walk.
In addition to working with Coast Magazine, Beverly Hills Times Magazine, Montage Magazine, Pacific Coast Magazine, Pelican Hill Magazine, and The Los Angeles Times, Sabrina's professional mantra is "beauty is everywhere" whether it's in jewelry, interiors, clothes, fragrances or handbags.
From interviewing trend-setters to attending fashion events, she has used her skills as a writer and blogger to not only take a look at the artist behind the brand but to share her sense of aesthetic and design about all the things she loves.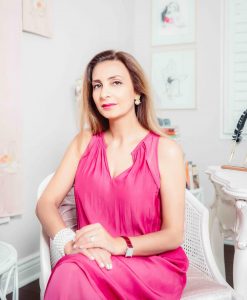 Born in Iran and raised in London, she moved to Miami armed with a degree in Ecology from the University of North London. Miami was where she became Editor in Chief of a luxury lifestyle magazine. She now lives in Southern California with her family.
She is also a public speaker, fashion consultant, stylist, a jewelry designer, wife and a working mother.
For requests send an email to: hello@SabiSays.com.