Fontem Handbags Combine the Love of the Written Word with Bespoke Leather Creations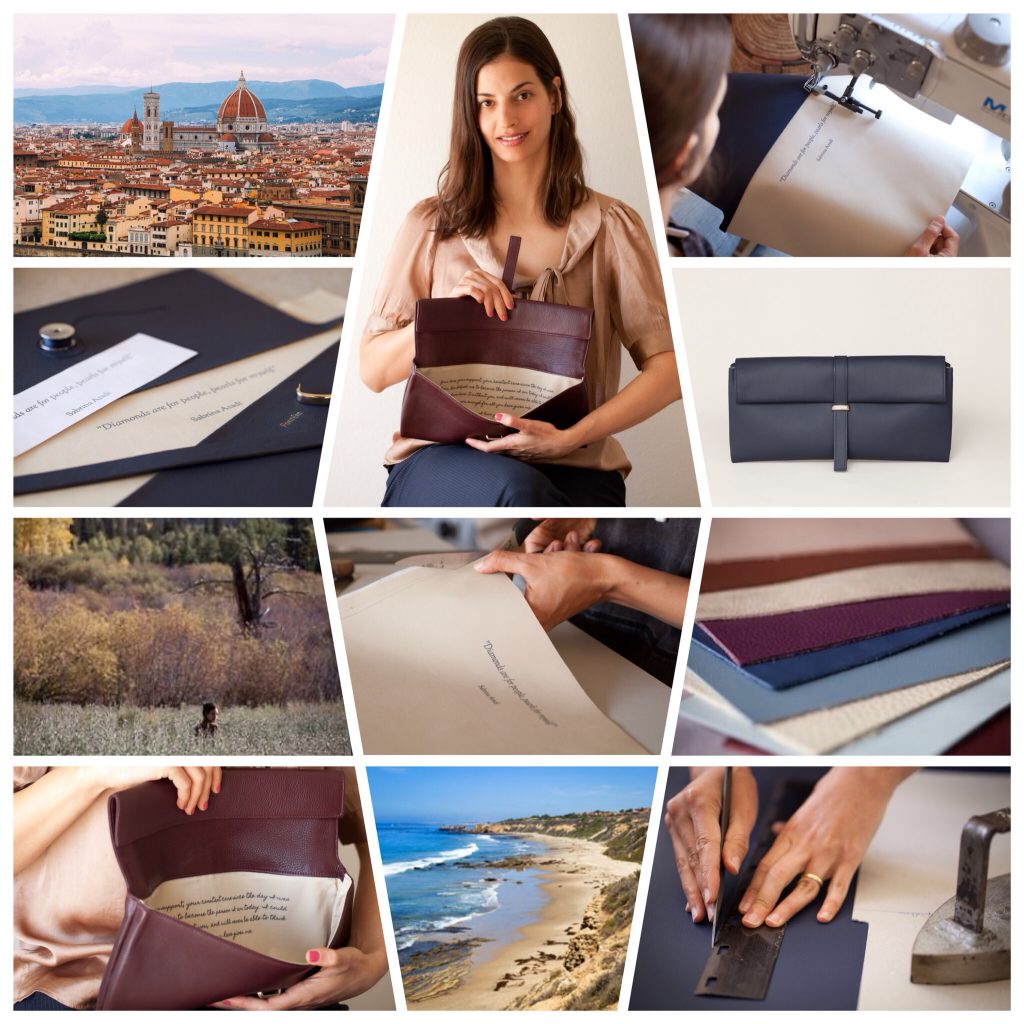 I found Fontem by chance. Somewhere between the timeless design, the fact that I could add my favorite quote to the lining of the bags and the Italian leather we "zinged" instantly.
Luxurious handbags and the written word make an unusual pairing. Yet that's exactly what Fontem celebrates, timeless leather bags with your own message or a beloved quote, printed inside the lining of your bag—for your eyes only.
"Romantics take heed, each time you open your handbag, it feels like you're opening a love letter—even if it's to yourself."
SABI SAYS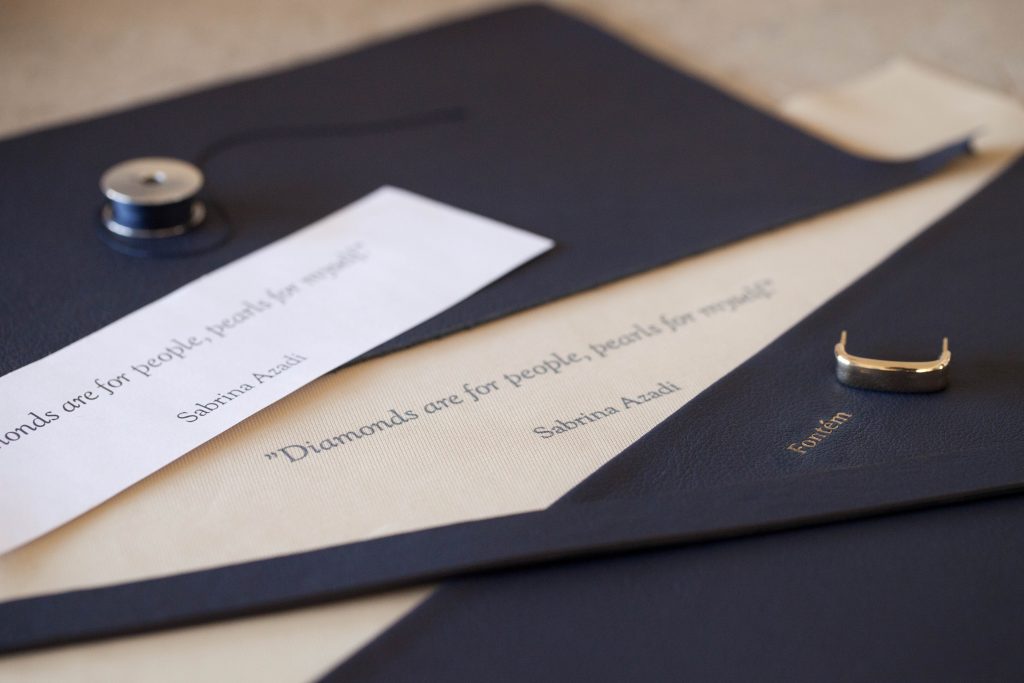 A Handbag with a Unique Voice
What's also unique about Fontem is that the handbags are created by hand at Maayan Hotam's studio right here in Southern California. And each style is named after a female writer. After carrying her clutches inscribed with my own quotes (something I made up which makes me smile every time I see it now) I wanted to tell everyone about a brand with a soul; that's so much more than just another handbag line.
"Yours could be inscribed with a stanza from a favorite poem, an inspiring quote, a passage from a book or a note you'd like to give a loved one—think of it as a modern keepsake."
SABI SAYS
Rarely does a designer have the ability to personally create what they imagine; but Maayan Hotam the founder, designer and artisan of Fontem, does it all. Trained in Florence, Italy, she meticulously crafts each handbag with her own hands using the finest Italian leathers and exquisite findings all encased around a heartfelt message.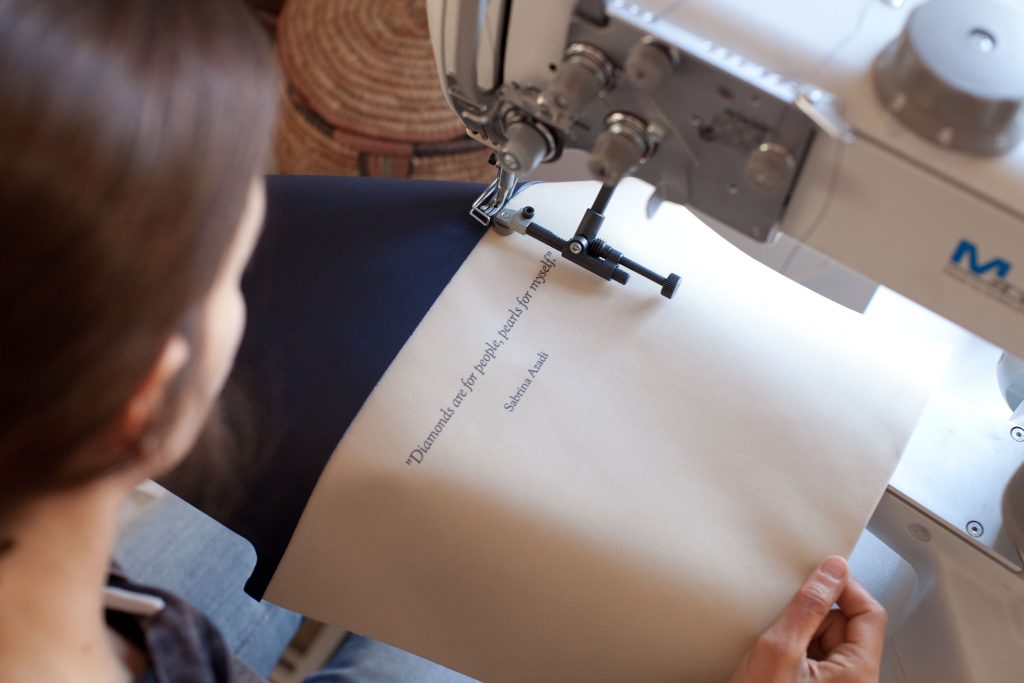 "Since I've started carrying Fontem I feel like I need less, because her bags make me feel like I own so much more—as each one was made just for me. "
SABI SAYS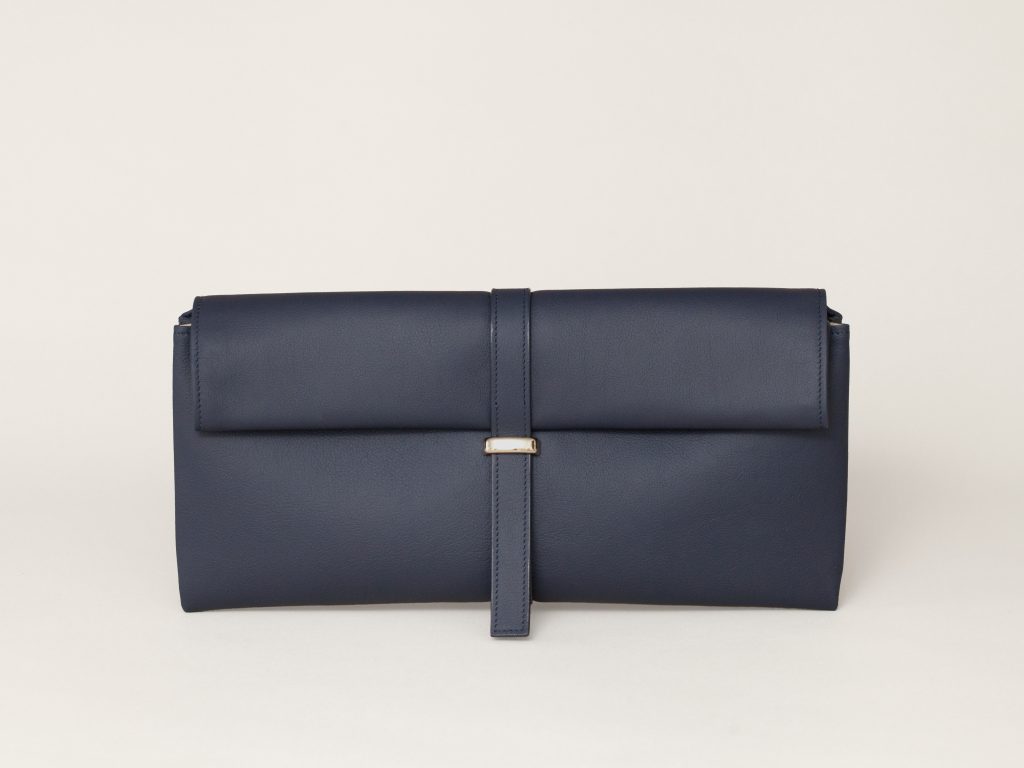 Q & A with the Founder of Fontem
I had a chance to sit down with Maayan at Moulin (her favorite coffee shop in OC) and we chatted about love, life, letters and leather.
Sabi Says: You have an interesting background tell me more about it:
Maayan Hotam: I was born in Israel, raised in Kenya and studied in Italy. I couldn't be more grateful for these diverse life experiences. They granted me with a very wide perspective, an enormous appreciation for life, and shaped me to who I am today.
SS: What's the difference between a regular handbag and a custom handmade handbag like Fontem?
MH: Fontem was born from my desire to create exquisite, tailor-made bags, each one unique and precious to its owner. In the world of disposable goods, my desire was to create meaningful and timeless products, that are meant to last.
We are used to a very different way of consuming these days—quick and instant gratification, and while it might make life easier sometimes, we can also end up losing our appreciation for things. I am proud to slow down the clock with each creation, grant it my undivided attention and create it from start to finish.
I believe this reflects in the handbags when people receive them− it grants them a sense of a personal experience and a different kind of appreciation for something that was made especially for them. A handbag that is hand-crafted as Fontem handbags are, is meticulous in a way that is harder for mass-produced handbags to be, and it allows the customer to be a part of the process.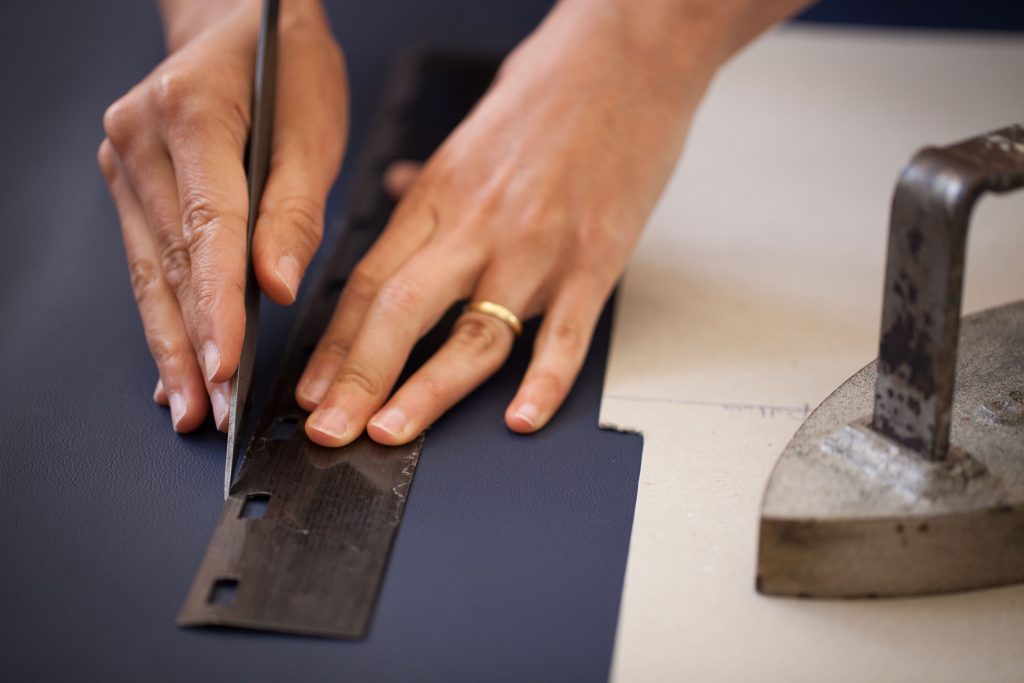 SS: What does Fontem mean?
MH: Fontem = "Fonte" + "M". "Fonte" in Latin means water spring, which is the meaning of my name "Maayan" in Hebrew. "M" from "Maayan".
SS: Why is the medium of leather important to you?
MH: I have always been drawn to working with natural, raw materials. Leather has played a crucial part in the development of civilization from early man, and to this day remains relevant. Being a durable and timeless material, it integrates so naturally with my approach for classical beauty that is timeless.
As long as the sourcing is done responsibly, meaning that fashion brands will limit themselves to work with certified tanneries only that are bound by harsh regulations in regards to the tanning process, and the sourcing of the skins, leather is actually one of the most sustainable materials you can use, because it exploits 'waste' from the food industry and being a material that is durable, lasts much longer (sometimes for generations) which allows us to consume less.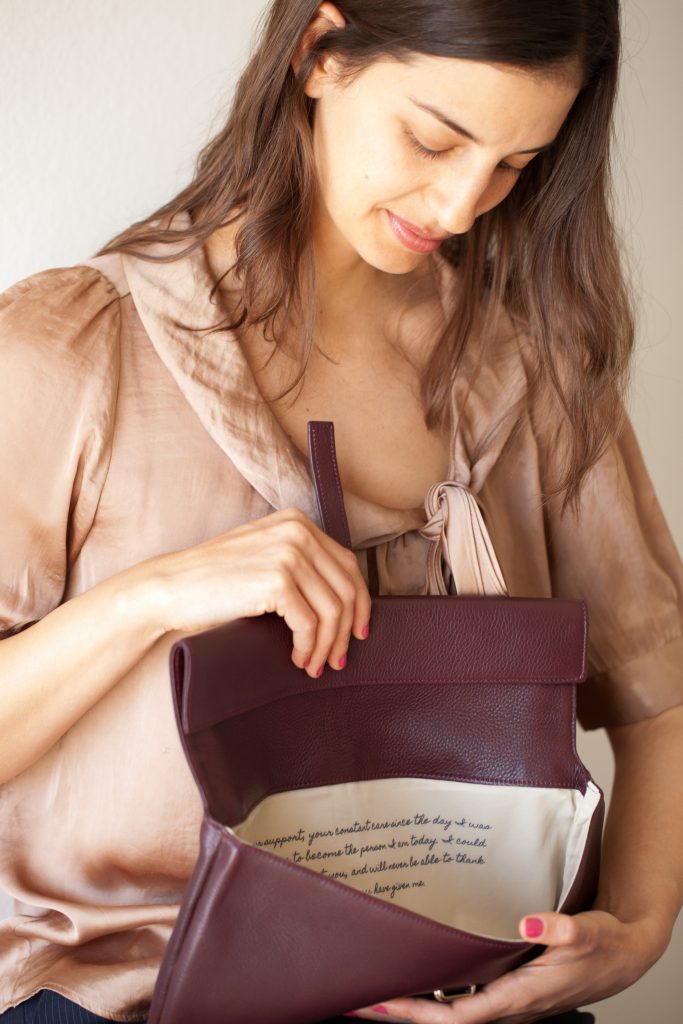 SS: What's your favorite piece?
MH: My current favorite piece is the new Isabel bag (named after Isabel Allende). I love that it can be used both in day or night, and that it maintains its elegance even though it is constructed with soft lines and folds. I also love how feminine it looks and makes me feel when I carry it.
SS: What's your first handbag memory?
MH: My first handbag memory is actually from my grandmother. We were extremely close and she was a huge part of my life. My grandparents were not wealthy in any way and lived a very humble life, but nevertheless my grandmother always looked beautiful.
She was a true lady. She used to match her outfits to her accessories and I remember her teaching me how to match colors and styles of the jewelry and handbags to the outfits. She had a few beautiful pieces, which my grandfather had bought her in Italy, which she loved the most, especially one handbag in particular which I later received when she passed away. It hangs in front of me in my studio every day.
SS: Describe your sense of style:
MH: Classic, timeless…
SS: One person you'd love to see carrying one of your designs:
MH: Oprah. I think she would really appreciate the essence of the brand and what we are about.
SS: Favorite place to visit (locally and beyond)?
MH: Here: Crystal Cove State Park. Beyond: Italy, of course.
SS: What do you always carry in your handbag?
MH: I always carry the latest year's birthday letters from my husband and from my parents with me. I am very sentimental in that way and I feel that all we really need in life is to be loved and cherished by our loved ones. That's what actually sparked my idea for the brand.
"I thought it would be incredible to create pieces that would actually make a difference to the women wearing them, reminding them that they are celebrated and appreciated dearly.
It can also be an empowering quote or note with which you celebrate yourself."
MAAYAN HOTAM FOUNDER OF FONTEM

SS: Where do you get your design inspiration from?
MH: I love the wilderness. It is a holy place for me and my biggest trigger of inspiration. I love the stillness, I feel when I'm out there and the feeling that everything is as it should be, something that can be a struggle in our daily lives. This 'stillness' triggers the most authentic creation that comes from within me and ironically, results in a huge flow of inspiration and movement of creation. It's the best place for any artist or designer to be in and to create from.
SS: Is there anywhere local that carries your collection?
MH: No, but there's a good reason for that. Because of the personalization process, e-commerce allows a direct correspondence with the customer, which is very important to ensure that the handbag will be perfect. Moreover, direct-to-consumer means that there is only one markup, which makes the product accessible to more, meaning that more women can be celebrated and gifted, something that is extremely important to me.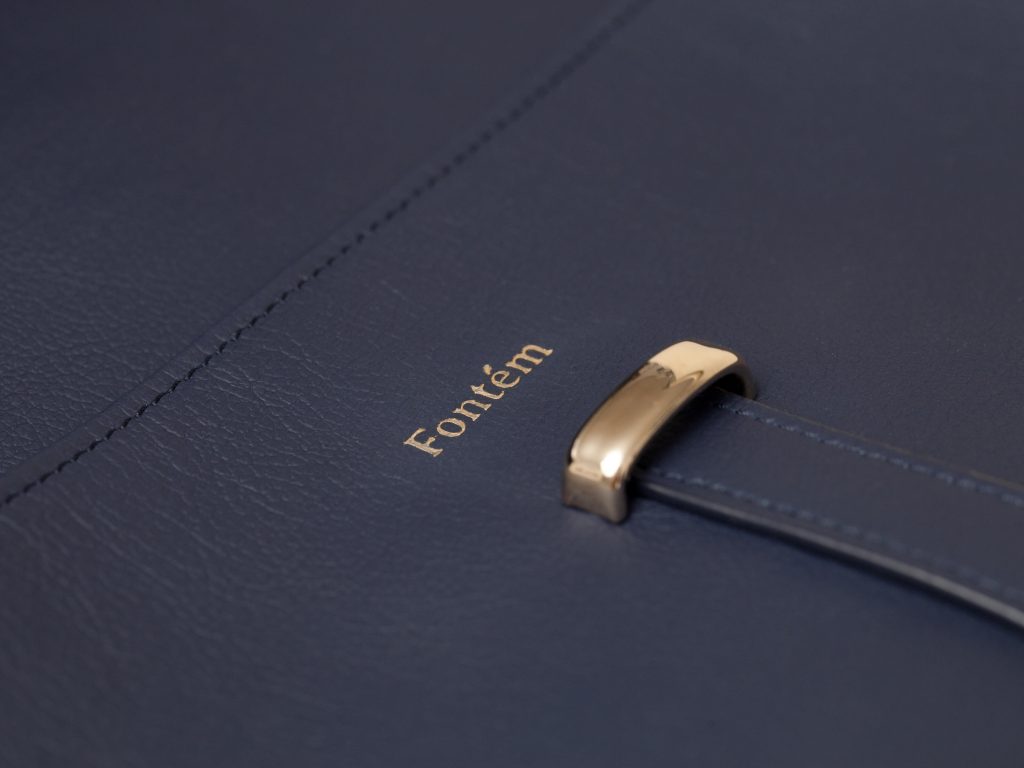 SS: You make everything by hand yourself which is rarely done in this industry. Where did you learn your craft? Tell me a little about the process of designing and creating a handbag from a piece of leather:
MH: I design directly in three dimension. I almost hate to sketch since I feel it ruins something in the translation between the idea in my head and the outcome. I translate my vision directly to the piece and allow the leather to guide my hands as well as the idea in my head. I believe this results in a very soulful creation that is connected to the material I am working with, in this case, leather.
"I spent two years studying and learning from the greatest masters in Florence, Italy."
MAAYAN HOTAM FOUNDER OF FONTEM
For this reason I was so passionate about learning the craftsmanship in Italy (Florence) —the source of this craft in the world. I spent two years studying and learning from the greatest masters, the most traditional Italian, artisan practices, immersing myself in the many details that comprise this world.
Today this allows me to design and create freely from idea to finished product, because when you know the craft, you are able to solve your design desires without limitations.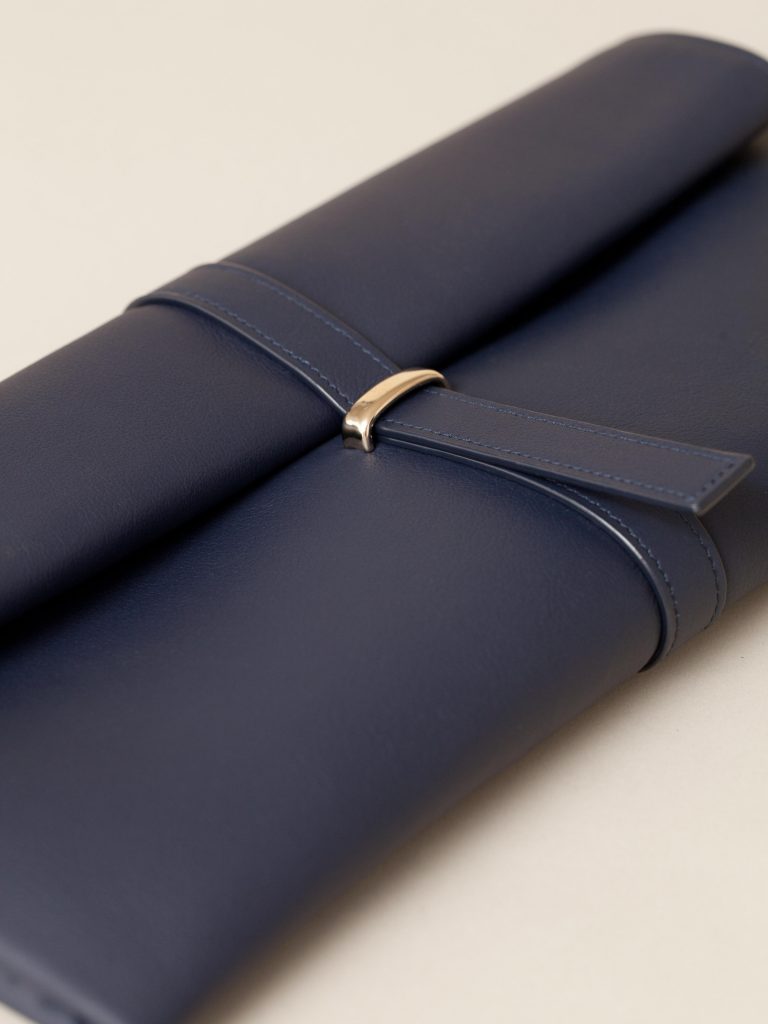 SS: What is special about your fabrics, hardware and leather and where are they sourced from?
MH: All of the handbag's components are made in Italy. From the stitching thread, the brass ornaments, the enforcement materials to the leather. I am extremely passionate about only using premium-materials and knowing exactly where and how each material is sourced. This is a value at the heart of our brand and something we are not willing to compromise on.
Just 'Made-in-Italy' is not enough for me. I know my entire supply chain. Meaning that it is not only the suppliers, but the origin of the raw materials they use are sourced from. This makes a huge difference and this is what it truly means to be a sustainable brand.
SS: What's something that most people don't know about you?
MH: I began my career as a professional dancer, and later as a dance photographer.
Thank you Maayan!