L.A. Based Perfumer Sarah Horowitz-Thran Chats about her Favorite Places, Scents and More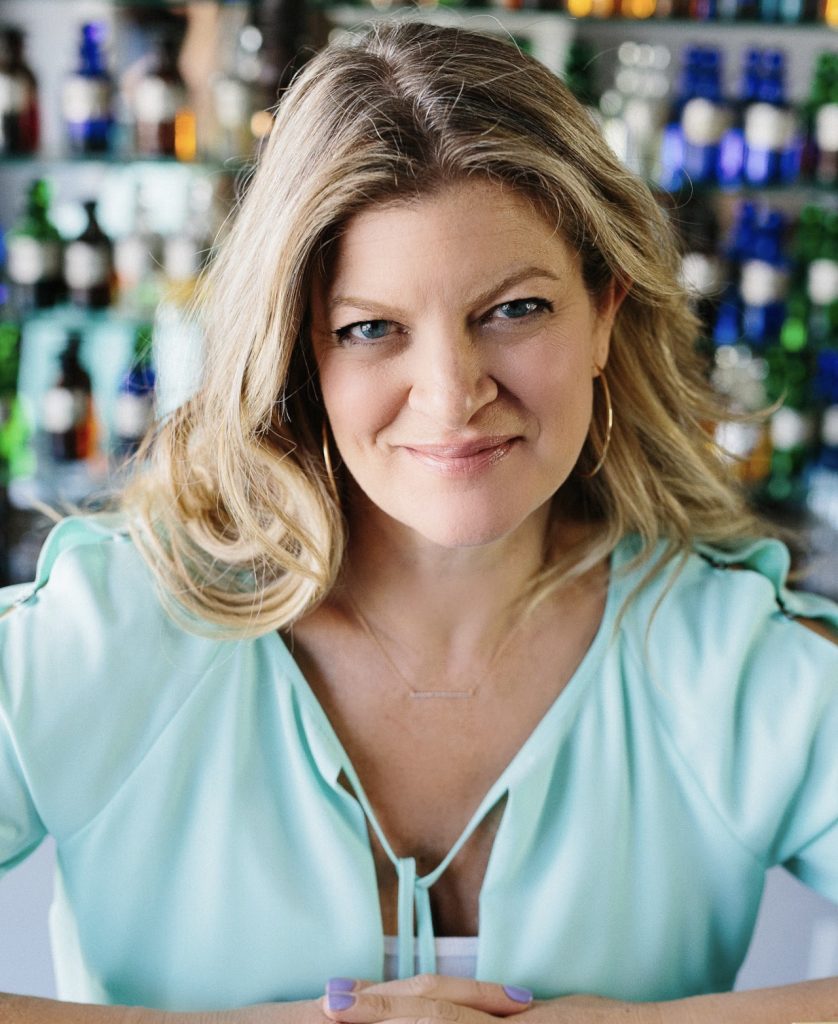 The founder of Sarah Horowitz Parfums found her calling by chance when she was still a freshman at Emerson College and was working part-time at an apothecary style perfumery on Boston's trendy Newbury Street.
Sarah's call to California meant she would sell her stake there and head to Los Angeles armed with her perfume oils and her passion for fragrances.
Her unusual approach to creating fragrances varies from the regular formulaic style and relies more on intuition than on a standard set of rules. It's this that sets her apart and makes her sought after by both individuals looking for something unique as well as niche and emerging brands that are looking to develop an exceptional scent.
I had a chance to chat with her about some of her favorite places, shopping spots—and of course scents.
Sabrina Azadi: What's the best thing about where you live?
Sarah Horowitz-Thran: It's where my family is. Agoura Hills where I live, it has mountains and lots of parks and every restaurant, movie, shop I could want is easy to get to and I am 20 minutes from the beach.
Where is your favorite breakfast spot?
There is a Le Pain Quotidien less than a mile from me. It is a bakery, coffee and tea shop, and has amazing food. I know this is ridiculously Californian of me to say (and can see my daughter's eyes rolling), but I love their avocado toast with an over easy egg on top.
They also have a selection of 'butters' on the table with assorted home-made jams, apple butter, hazelnut (think Nutella but better) and something called cake-butter. It's a super healthy place with completely decadent treats.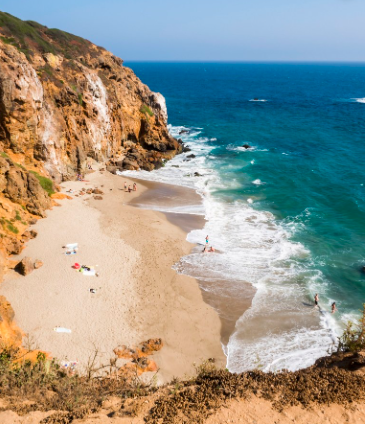 Where is your favorite beach?
Point Dume, just before Zuma in Malibu. It is tucked away, and if you get there at the right time of year it is pretty empty, which I love. Tobay Beach is the beach of my childhood on Long Island, so I will always love it for the memories it brings. And I love the Caribbean. We use to scuba dive a bit before kids, and the Cayman Islands was the most beautiful spot I had ever been.
What is your design philosophy and how would you describe your sense of style?
As an "Olfactive Artist", my starting point in any new creation is emotion and memory. Both a memory a fragrance may trigger, or the future memories to be created by the one who will wear the scent. I create a brief before I begin the blending process, and focus on the emotion I want to elicit, the picture I want to paint through scent. For me, all begins and ends with emotion, evoking it in others, and in yourself.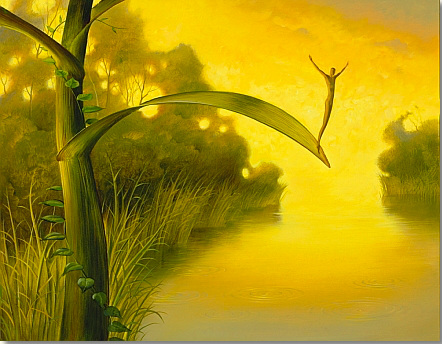 Who is your favorite artist?
Vladimir Kush. I own one of his pieces "Waiting for Luck". His style is about fantasy and emotion, and the work I own is something I saved for and was the first piece of art I purchased. It moved me to tears. It is of a being poised on the edge of a leaf, arms up, ready to leap. Its title is "Waiting for Luck", but I see it as a leap of faith. I love it.
What does California style mean to you?
Cool and easy, flowy and unstructured, something that can go from day to night with the simple change of lipstick color, jewelry and fragrance.
Favorite California landmark?
I don't live by it anymore, but when I first moved here 25 years ago and saw the Hollywood sign, I knew I had arrived. To me it still represents the idea that anything is possible.
What/who has had the biggest influence on your creations?
Most of my creations are custom tailored for my clients. In bespoke perfumery, the customer is the visionary, and my job is to capture who they are and what they love in a bottle. So ultimately, my customers are my biggest influencers.
"It captures a moment for all time, sets a stage, embraces us, warns us of danger, tempts our appetites. It colors and shapes my world."
Sarah Horowitz-Tran
Why is scent important to you?
Scent is everything to me. It led me to what I loved – and did not love – in childhood, it can bring my parents back to me over decades and miles, it ignited a passion that became a career now for over 30 years.
It is a gift I can give to others, to my children. It introduces us before we open our mouths to speak. It captures a moment for all time, sets a stage, embraces us, warns us of danger, tempts our appetites. It colors and shapes my world.
Where is your hidden gem locally?
I love a tiny local store called The Flying Owl for gifts; very irreverent, smart and funny cards and gifts as well as a bit of jewelry.
Where do you like to shop?
I do some shopping online of course, but prefer being able to see and touch (and smell) when I can. I love Ron Robison's store in Santa Monica – a bit of everything fabulous for everyone from kids to adults, beauty to home. He always has new, interesting brands – it's a discovery.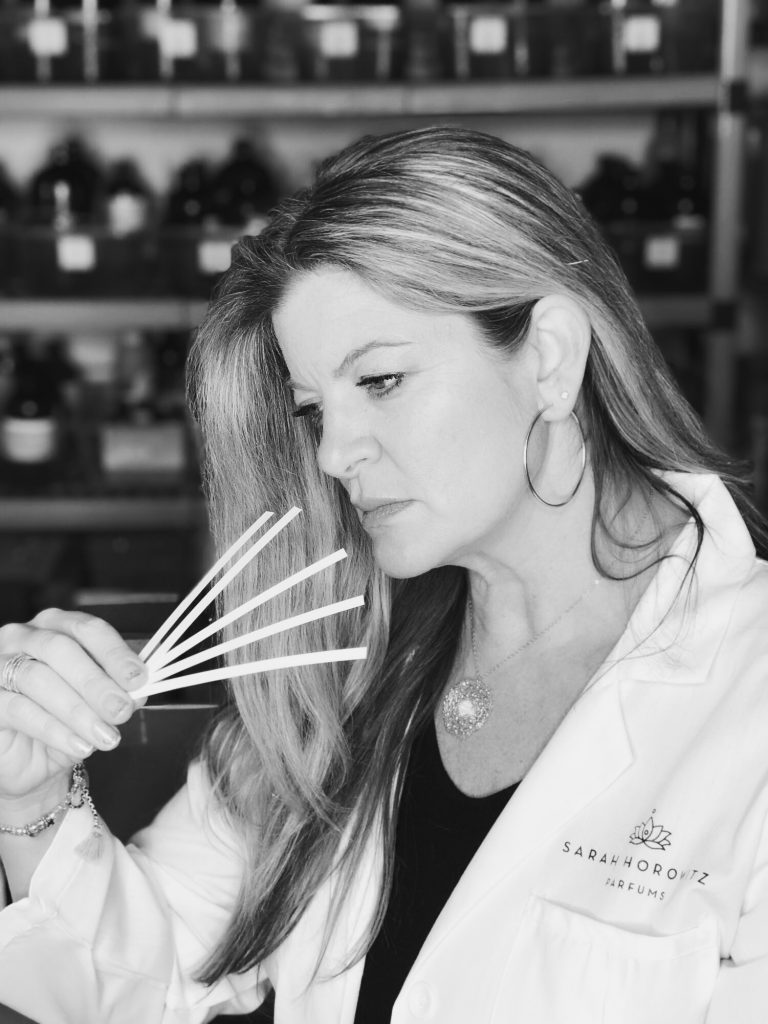 What are you reading right now?
I am currently reading two books; Becoming by Michelle Obama, and The Haunting of Hill House by Shirley Jackson. I read always – it is my escape, and I enjoy most genres
Best day trip?
Cambria, Central Coast about three hours from our house. It's an amazing little artistic beach town where you can shop the local artists, bike on the beach path, and have great food.
It has the best seafood restaurant I have ever eaten at called The Sea Chest on Moonstone Beach. They do not take reservations, but people line up before 5 pm when they open and hang out in line with bottles of wine, bread and cheese and wait. The food is prepared in an open kitchen where you can interact with the chefs. It was, quite simply, the best food experience we have had.
What's your favorite color?
Blue. The soft blue of the sky on a clear day, the turquoise of the Caribbean Sea. It calms me and I love it.
Who is your favorite designer?
I wear a lot of Free People, and I love Warm NY. It's a brand by Winnie Beattie that feels like California; easy to wear, dress up or dress down and beautiful.
Best fashion trend?
Layering jewelry.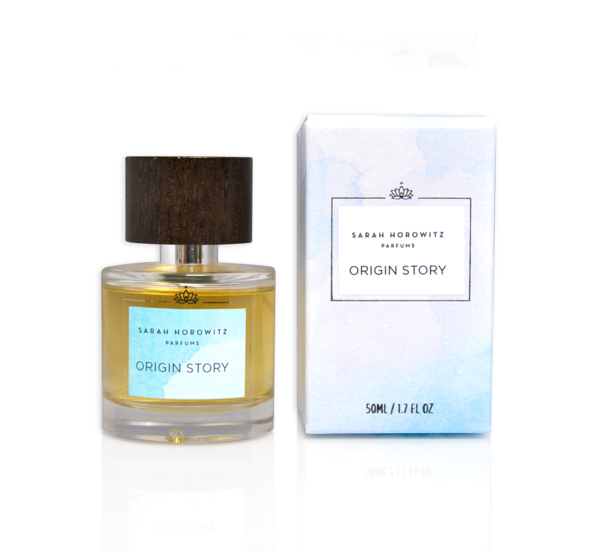 Your favorite scent and why?
My favorite scent is still my first scent I ever made the day I met the Perfumer that changed my life. A blend of patchouli, vanilla, jasmine and musk, I still wear a version of this scent to this day, that I recently launched called Origin Story. It always brings me back to center, to the present moment.
Your first scent memory?
Cherry vanilla pipe tobacco; my Dad smoked a pipe when I was little and I love that scent. Also, the scent of Shalimar, the fragrance my mother wore when she would get dressed up. It still reminds me of her.
Who is your style icon?
My Aunt, Melanie Fordin, she is the ultimate hippie in bell-bottom jeans and boots, flowing blond hair and a total free spirit. Now a die-hard New Yorker: #goals.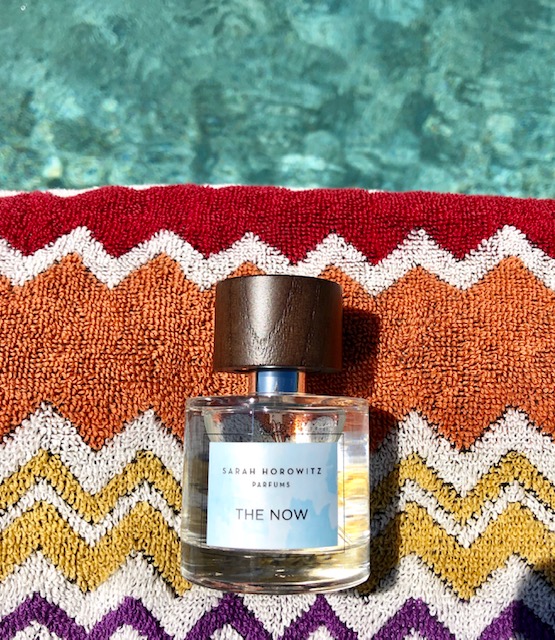 Thank you!