Weekend by Max Mara Opens at South Coast Plaza
Of all the malls in, in all the cities, Max Mara, have opened their onlyWeekend store in the U.S. at South Coast Plaza. The quintessential Italian brand worn by sophisticated women around the world picked Orange County as their launching pad. Without sounding ungrateful, there are down sides to any place, even a fabulous place like Orange County but SCP (which sounds very much like another fashion icon SJP) has got to be a bonus, the icing on the cake.
And speaking of cakes, this bag at Weekend stopped me in my tracks. It's aptly called the "Pasticcino" Italian for small pastry. When the well-meaning sales assistant said it was inspired by cupcakes, I may have, unintentionally, rolled my eyes. Italians eating cupcakes? Cupcakes and Cappuccinos? Whatever next?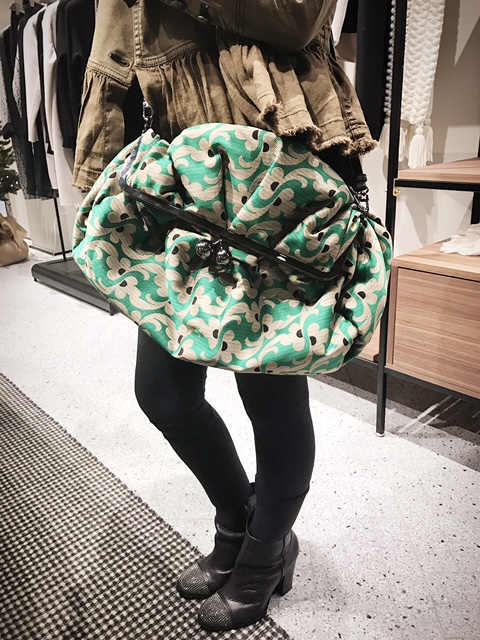 I'd like to think it was inspired by one of the tiny delicious Italian pastries that you first admire in the shop window of a bakery/coffee shop, along a cobblestone street far from the madding crowd. It's in a part of town that tour guides seldom frequent. You'll sit at a small table, order an espresso and point to the pasticcino in the window. When it's presented, you pop it in your mouth and wash it down with bitter espresso. And then, decide to taste 100 more.
But Weekend isn't all about handbags. They're an entire look, a lifestyle. They're the off duty version of the career driven, Max Mara lady, which means this is what she wears on the weekend—for leisure. The Dowager Countess of Grantham (Downton Abbey fans this one's for you) may not have approved. "Weekend? What's a Weekend?" she, once asked.
Aristocrats didn't have jobs, therefore the concept of the weekend was for ordinary, common folk, like me. Max Mara would have a field day with me. If they only knew I hardly get out of my PJs on the weekend. Perhaps I'm not their target clientele, but I was inspired by what people with proper jobs get to wear on the weekend. I'll be happy to wear anything in their store. Monday to Friday and through the weekend.
And coming back to the yummy bag. If it was inspired by cupcakes, someone please inform House of Sillage. I prefer my own version of the truth. Now, how about a nice cup of tea?