Q & A With Furniture Designer Timothy Oulton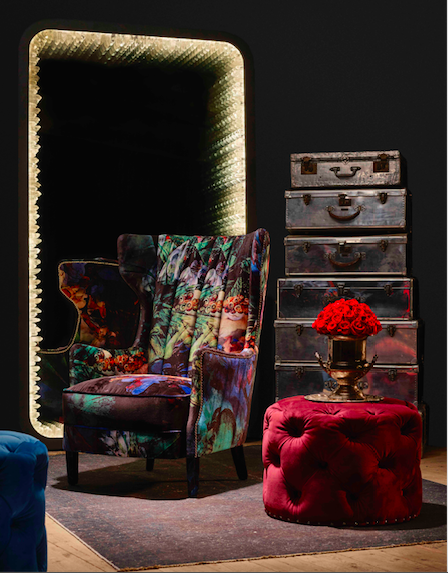 The chair I'm sitting on is by Timothy Oulton. Its feminine shape is balanced with the sleek black nail heads on the back. The striking velvet fabric; a mix of blue, lilac and silver in a faded pattern that's coincidentally named "Persia in Decline" was inspired by Oulton's vintage Persian carpets. He likes to give us a glimpse of what happens to objects with the passage of time, and what they become when they're propelled into the future, à la Dr. Who.
"His style is a blend of Sherlock Holmes meets James Bond. The brand oozes the essence of having a stiff upper lip with a dash of Hollywood glamour—and some rock 'n' roll style rebellion, thrown in too."
SABISAYS
Perhaps it has something to do with my British upbringing; the bowler hat logo, the Chesterfield sofa—a familiarity that's ingrained in my psyche and yet he manages to breathe new life into traditional concepts that make them modern and tears away from their original stuffy restraints—and made me want to furnish my very Californian home with his point of view.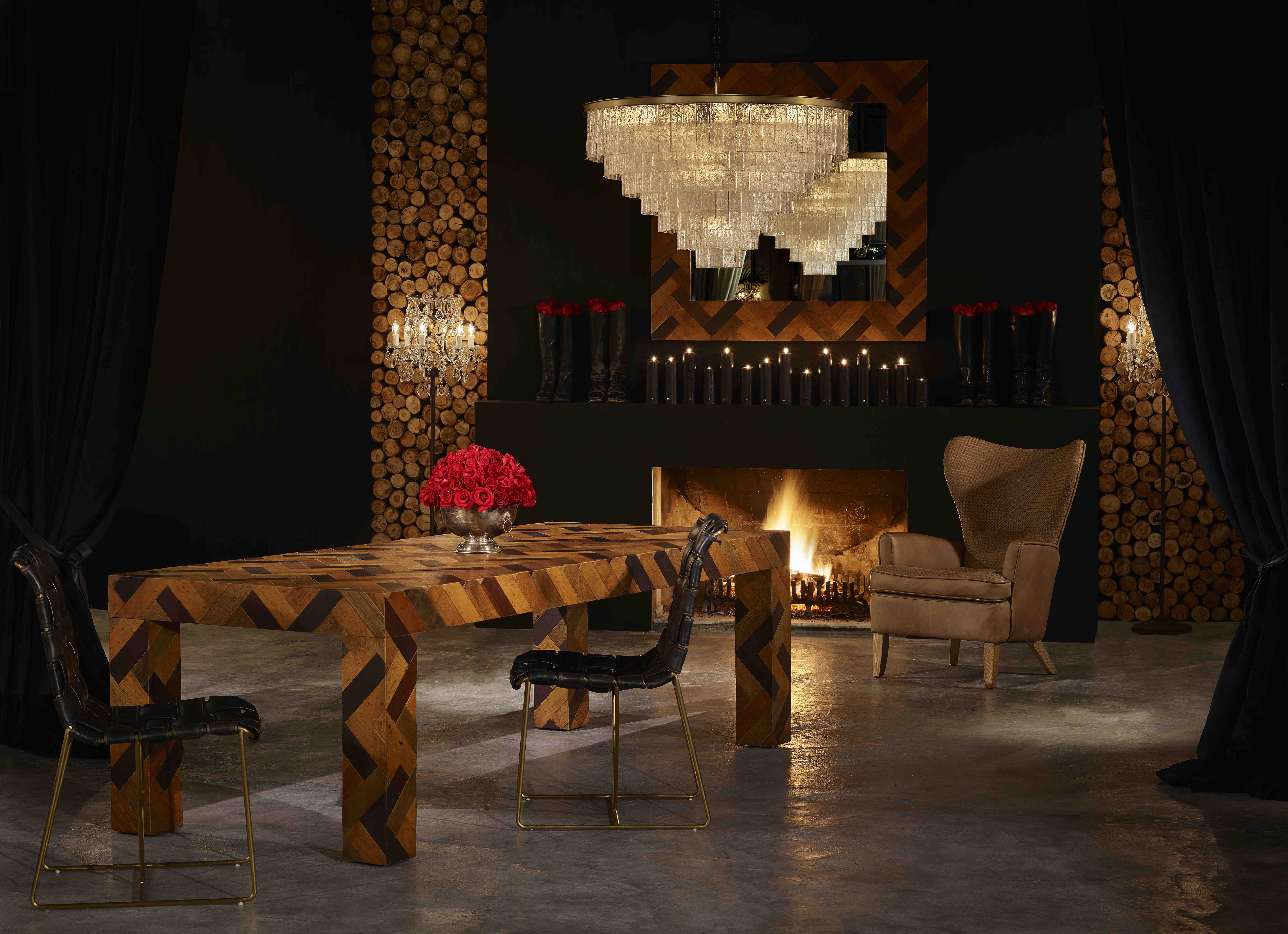 "Oulton is one of the few furniture designers that makes me feel something. When I first saw his furniture, before I knew anything about him, I felt an emotional connection to his sense of style."
SABISAYS
And whether it's my Iranian, British or Californian sensibilities that I pander to—when I am surrounded by items that I love and feel a connection to, all my opposing tastes seamlessly come together—and I feel at home.
I was lucky enough to be able to interview the guy that designed the chair I'm sitting on—and more, and I had so many questions to ask him.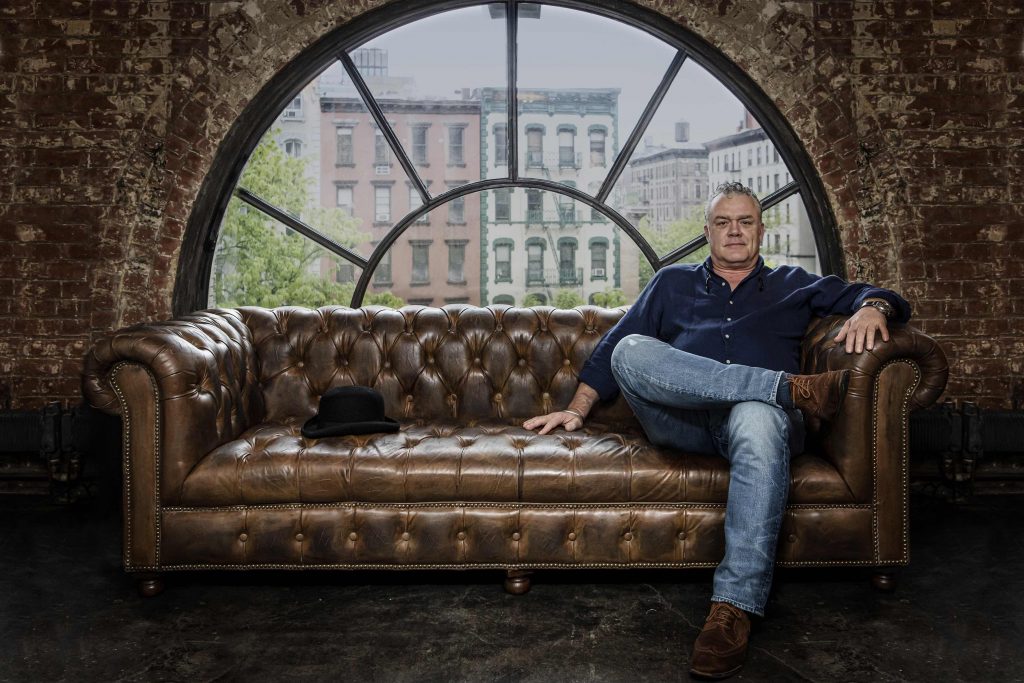 Sabrina Azadi: What's the most important furniture in a room?
Timothy Oulton: To me, every piece of furniture is important in some way. But when it comes to the living room, I always think of the sofa as the anchor of the space. It's where you relax and connect with family and friends.
What's the one piece of furniture you own, that you treasure?
That's hard, but if I had to pick one piece it would probably be a trunk. I've been collecting vintage trunks for many, many years, I've currently got about 160 trunks—mainly Louis Vuitton, some Goyard. Many of them are extremely rare, I've got a Goyard trunk that's currently in our Bluebird gallery that was commissioned by Sir Arthur Conan Doyle who wrote the Sherlock Holmes books —it transforms into a writing desk when you open it. The detail of the craftsmanship is just incredible. Trunks are a great example of antiques being relevant in modern interiors.
Your aesthetic is distinctly British, is that deliberate or part of your design DNA?
Our British heritage comes naturally to us and I think that's woven through many of our designs, but we have a global viewpoint, and that's why we resonate with people all over the world, whether you're from L.A., New Delhi or London. Our ethos is rooted in the idea that beautiful interiors support the creation of hosted and social experiences, and that's always at the heart of what we do.
How do your designs manage to look modern yet have a sense of history?
Vintage never dies, it has a story, and that's what draws people to it. Vintage will always be a big influence for us—whether it's in the design or the materials, but we put our own twist on it, we have our own point of view. I always talk about the Gyro Crystal; a Rococo chandelier, pretty as it is, is boring on its own, but whack it in a cage and it just becomes something else. It's about making design relevant.
What's your favorite era and why?
I'd have loved to have been a teenager in the 60s when The Beatles and The Rolling Stones were in full force. It was such an important time of social change, and a very creative period that started to champion non-conformity. And with the antiques, it was that time at the height of the British empire when creativity ran rampant; the best materials from all over the world, and the meticulous attention to detail.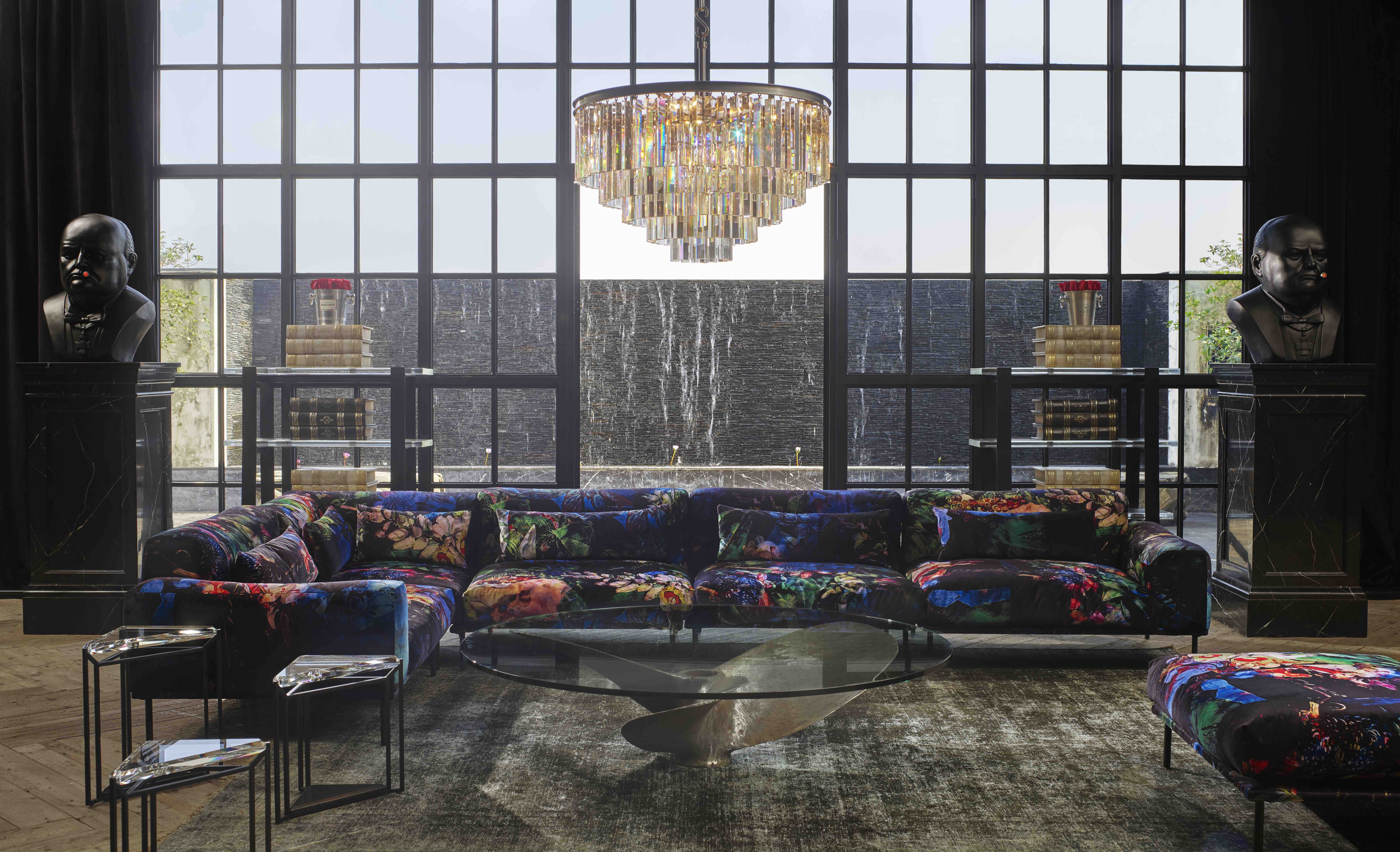 Where do you call home?
A few years ago we built a sort of 'village' for our designers, near to the workshops in Southern China, and that's where I'm mainly based. We have a very international team who stay for extended periods and we wanted to create somewhere special. The buildings are nestled in the middle of an established lychee garden, it's very tranquil. There are seven two-storey 'Round Houses', and the central Dome Home, which is built to Passivhaus standards, where we eat, hang out together, and entertain our visitors who come from all over the world.
Tell us about your family?
My son Oliver works in antiques, and I inherited my love of handcraftsmanship and antiques from my dad. He set up his own antiques shop when he left the British Army, so I guess you could say it runs in our blood.
Tell us about your home and what you like to surround yourself with?
I stay in one of the Round Houses for much of the time. They share some of the basic principles of the Dome Home, the reclaimed bricks and timber have been recycled from a local village, and the focus is on the shape and the materials so everything in the interior is kept very simple.
Tell us about your favorite city?
I always feel inspired in London and New York. To me, they're not even cities – but countries in their own right. In terms of international exposure, I don't think anywhere is better than London – it's so dynamic. New York's fantastic as well and I love the way people live in their little boroughs and they know their neighbor a bit more than people do in London.
Do you have any design tips that will suit our SoCal lifestyle?
I think in general, always think about how you use the space first, and how you want it to feel. If your home is somewhere to kick your feet up and just relax, choose big slouchy sofas in soft leathers or linens, and natural, earthy materials like reclaimed wood. Our Noble Souls collection is very much in that laid-back vein, it's probably our best interpretation of humble luxury. We've used pure down feathers in the sofa cushions, and natural linens, dyed using 100% natural vegetable dyes. We wanted to create a feeling of epic softness and sensory joy that you can experience every day.
How did you decide on the bowler hat as your logo?
The bowler has a rich British heritage – steeped in tradition, but it's continually coopted, borrowed and reinterpreted. It reflects our ethos of putting a modern twist on tradition. I love that it has these different sides to it; on one hand it's sophisticated and elegant – think Charles Dickens – but then there's a friendly, playful element encompassed by Charlie Chaplin, and a much edgier side in A Clockwork Orange. Each generation finds relevance in it.
What's your favorite item of clothing?
Jeans. You'll usually find me in a pair of jeans and a polo shirt, I'm a very casual person.
First furniture memory?
I went to a wonderful school called Ampleforth College in Yorkshire, it was run by Benedictine monks. The halls were filled with old leather furniture – I still remember that evocative smell of the leather chairs.
Why did you decide to move your business to China, and yet not compromise the quality of your products?
It was never about the cost, there are much cheaper places, you can probably make it in Europe for the same price nowadays. I actually saw China as a place to ADD cost in – the reason I moved here was because they're not scared to add detail, you can get things done, that's what I liked. I knew I wanted a creatively diverse collection; chandeliers, chests of drawers, all our tables are made using wood from the UK, a lot of leather from Argentina and Brazil – I don't know of another place I could have managed all that complexity at such a high level of quality.
Your biggest challenge?
I like a challenge, that's how you grow and learn. The big pivotal moments for me have included the move from antiques to furniture production, branching out internationally, the move to China, and then stepping in to retail. And each has been so rewarding, mainly because of the people you meet. My biggest thrill is meeting someone who bought something from us, and made it part of their life.
What were you doing if you were not a furniture designer?
I'm very lucky that my passion – or obsession – has turned into my career, there's nothing else I'd rather be doing.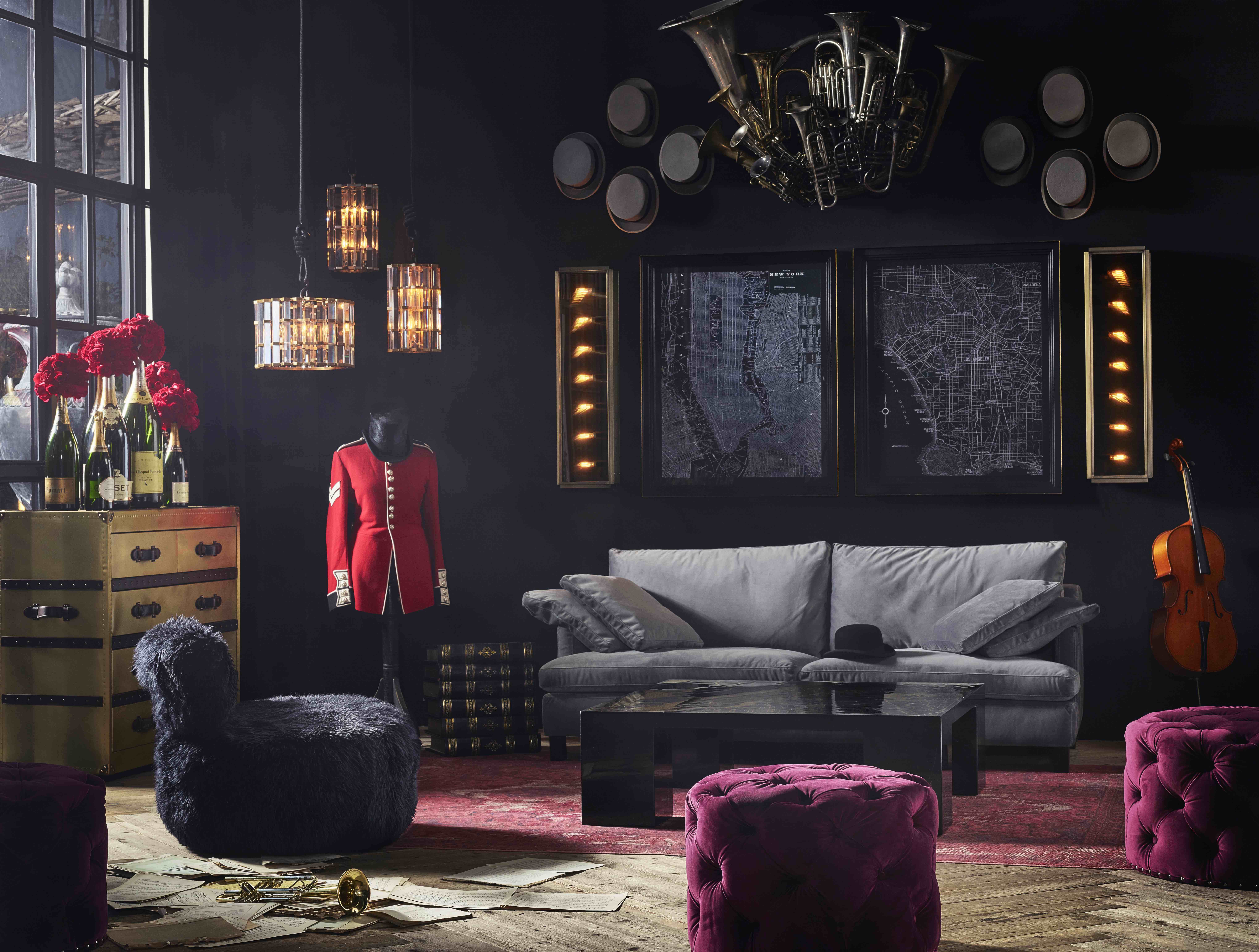 HD Buttercup, 3225 Helms Avenue, Los Angeles, CA
HD Buttercup, 3305 Hyland Ave, Costa Mesa, CA