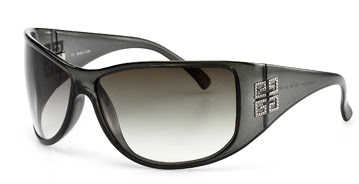 I miss my fake Givenchy sunglasses. The ones I bought from a street vendor in Rome. He wasn't exactly a vendor, but more like a traveling salesman. He kept mobile and carried his goods in a duffle bag. Far more efficient than having to set up shop and to redo his display every five minutes (like the others) because of the fashion police patrolling in their Vespas. Surely there must be worse crimes taking place in Rome. What I liked about him, beside his Senegalese/French pronunciation of Givenchy, is that he worked in close proximity to the actual flagship Givenchy store across the street in Via Borgognona. This meant he kept up with the "real" trends. To think of all the new stuff he must have. Those were a real fake. They were worth the trip to Rome. Beautiful heavy black lacquer, with a discreet yet visible, rhinestone encrusted iconic Givenchy logo on each side and a clean, uniform polish. The fact that they left red marks on my nose was secondary. Most of the time I wore them on my head, so it didn't matter.
A few weeks after I got back home, I left them in my car by mistake. The next day when I tried to put them on they suddenly snapped. Either my head had got bigger or they had shrunk. I had left them in 90-degree heat but that couldn't have had anything to do with it. After all you were supposed to wear them in the sun. They even had an authentic UV sticker, which I had peeled off. I never found what caused the snap. Maybe I hadn't read a warning about "extreme direct sunlight may cause retraction," but it wasn't like I was given a booklet, a receipt or a proper case for them when I bought them. Otherwise I could have tried to give them back. Yes, not even those snooty shop girls would have known the difference. They looked that real.
And then there was the fake Cartier watch. Not the run of the mill Pasha or Santos. It wasn't anything like the stainless steel fake ones you see everywhere. This one was a rare find. It was a classic leather strap. It had a dark red, (almost) real crocodile leather strap, Roman numerals, great workmanship and a tiny look-alike sapphire on the crown just like the real one I had seen at the Cartier store for $35,000. I got this one for $25. It was just like a cubic zircona. No one could detect it from the real thing with a naked eye. In this case, unless you got really close. And how rude for someone to try and get such a close look at my watch as if to deliberately check its authenticity.
I bought it while I was working as a reporter for a newspaper in Miami. Every few months, Ricardo, the second cousin of Consuelo, our Puerto Rican, print assistant would make a trip from New York and bring us goodies. He'd come down on our lunch break and lay out all the goods right there on the production line, on top of the proof sheets. There would be rows of fake Gucci, Fendi, and Prada bags. Rolex watches, Hermes belts and Louis Vuitton wallets. Sometimes he would even take orders for special requests. The newspaper would come to a complete halt. Our front desk receptionist would announce in a giddy voice that "Ricardo's here!" The salespeople, production department, editors and writers would all gather around. Even the publisher's wife would pop in on those days. In fact if it wasn't for my swift judgment she may have snatched that watch right from under my nose. She ended up buying exactly the same Cartier watch as mine, but hers was in boring black. Serves her right, after all she's the only one that could've bought the real thing.
I was pleased with my purchase and looked at the time more often than I did before. In fact I wondered how I had got by without it. I started developing a keen use of my left hand. I now used my left hand to drink coffee, point at things, and flap my hands to show how hot the weather was getting. The only problem was that since it was new, the "pleather" strap was a just a bit stiff. So I decided to sleep with it, just to break it in. And just when it had finally molded perfectly around my wrist, I went to visit my sister in Atlanta.
I hadn't got past the baggage claim, when she gasped and said, "I can't believe how real it looks." I had emailed her a close-up photo of the watch on my wrist but it was different seeing it in the flesh. By the end of my trip she had tried it on so many times, I decided, against my better judgment, to give it to her. I could always buy another one from Ricardo, I thought.
When I got back to work I asked Consuelo about Ricardo's next visit. She was really upset that she'd never get the denim LV purse she had ordered. I found out that there had been a crackdown and he'd been caught at JFK airport with all his knock-off goods. Why did he not drive instead? Not only was he on probation, he was given a hefty fine and worse still; he had all his goods confiscated. Unfortunately for all of us at the newspaper, after that episode Ricardo decided to change careers. Although he's still in the luxury goods business, he's now selling used BMW's in New Jersey and it's just not the same.
A week after I got back from Atlanta my sister called frantically and said that she had developed a nasty rash, on her lower wrist precisely where she had been wearing the watch.
"Are you sure its not chickenpox?" I asked.
"But it's only red my wrist." she said
"Maybe you caught something from Danny's friends at school. They're so susceptible to skin disease at that age." I said.
Being the hasty person she is and jumping to unnecessary conclusions (as always), she stopped wearing the watch. She threw it in the bottom of her bathroom drawer. To my surprise the rash completely cleared up after a few days. I still think it was because of all the stress she was going through at work. Stress will do that to you.
As for the watch; well, the glass frosted up with droplets of water and the pleather veneer flaked off to reveal shameful plastic. If only she had taken care of it and placed it in the imitation suede pouch that it came in. I could be wearing it now. Instead I'm waiting in line at the grocery store and looking at my cell phone every five minutes, to see what time it is.