I'll give you a visual of what happens to me, when I'm driving from my home in Irvine to Laguna Beach. I'll take, what I call the scenic route on PCH, past my dream house, which I've named Rebecca (after the novel) that's perched high up on a cliff, overlooking Crystal Cove, past the blooming bougainvilleas, and a few random stores until I approach the Fetneh Blake boutique on my right. Much to the dismay of other drivers, I purposely slow down every time. What I see on those two mannequins will be a blueprint for what's new, fresh and fashion forward. Even though I'm in sunny California, that single window display gives me a glimpse of what's on the cutting edge of fashion in New York, Paris or Tokyo.
If you're on a fashion quest for something different, you"ll find it there. Each item she carries in her store has been carefully curated by Fetneh herself and has its own story. What you won't find here are the usual suspects (you know I mean), familiar brands rotating in all the hip boutiques around town. It's unlikely that you've even heard of some of her brands, since she's usually the only store in OC carrying them. She's at New York Fashion Week and attends the shows in Paris, so if you pick up something from her boutique, you can rest assured that no-one will know who it's by, let alone be wearing it! What Fetneh sells above all, is her own sense of style, her unique edgy brand of it, and if you're in need of help, she knows how to gently nudge you in the right direction. She's been in business for the last 14 years, in the same spot on PCH. I recently sat down on a warm afternoon for an informal chat with her.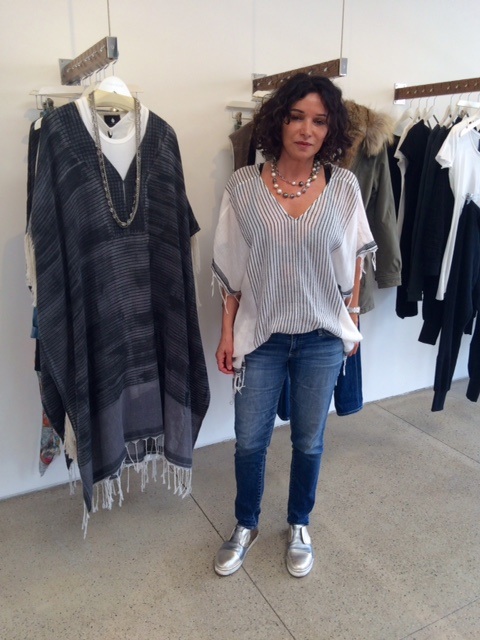 Fetneh wearing a SU kaftan by Parisian based brand with roots in Turkey. (SU means water in Turkish).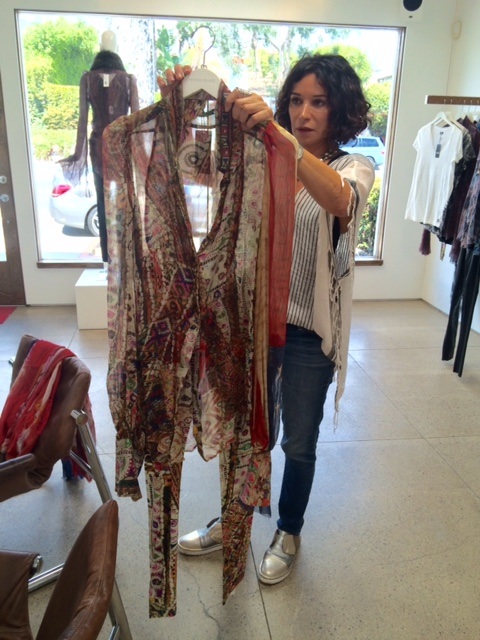 Eclectic sheer shirt and stretch pants by Japanese brand If Six Was Nine (the brand is named after a Jimi Hendrix song)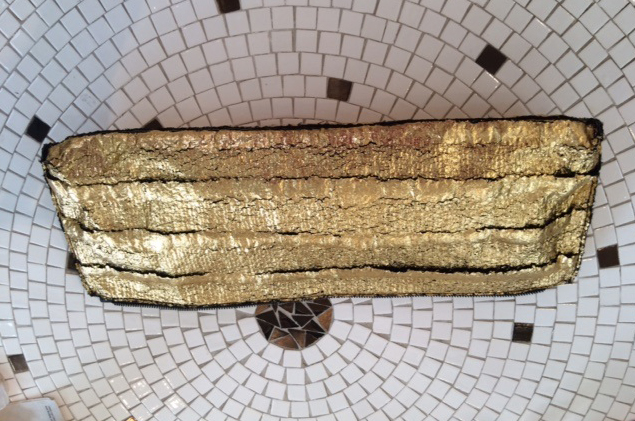 Who doesn't need a gold clutch? I fell in love this oversize gold painted clutch by Simona Tagliaferri $720
SA: How has your vision for your store evolved over the
years?
FB: The vision changes but the bottom line, which is the passion that drives you to find something fantastic, well-made and well-priced, stays the same.
SA: Did you know you were going to create a brand by placing your name on your boutique?
FB: I never really thought about it. My ex-husband always encouraged me to have my name on it, and to create a brand. It has created a certain expectation, one of high quality and high fashion from my customers.
SA: Are you under any pressure to conform to the OC sense of fashion?
FB: (She laughs) My brand is both a blessing and a curse. Some people love it and some people don't understand it.
SA: Who is a typical Fetneh Blake customer?
FB: Anyone in their 20s to 80s. Women usually come here to find something different. They usually appreciate style and want a whole look. We don't cater to any particular shape or size meaning I don't just want to sell clothes to skinny people.
SA: What's your favorite item of clothing?
FB: STROM jeans which I am wearing right now, they're slim boyfriend jeans but they're not too baggy. They have the perfect wash and color. I usually have to re-order them every time I get them in.
SA: I would love to take a peek inside your closet. What's your closet like at home?
FB: I have my favorites that I go to every time. I have a few really good dresses and for casual wear I have several leather jackets. But I go through my closet and clean it out every six months or so.
SA: What color do you love wearing?
FB: Usually black, but now I am also into gold and deep deep reds.
SA: Do you cook?
FB: I love cooking. I cook healthy dishes and Persian food. I like putting things together and I can't work from a cook-book!
SA: What kind of music do you listen to?
FB: I live with music. I listen to jazz most of the time.
SA: What is your ideal romantic date?
FB: I would say a nice lunch to start with.
SA: Do you have any favorite artists?
FB: I love Ed Moses, I own two paintings from him. I also love Peter Alexander and Jimmy Gleeson. Each painting means something to me on a personal level since I live with them.
SA: What's your beauty secret?
FB: I try everything. I love creams, moisturizers and serums. But sleep is the most important thing.
SA: What do you do to relax?
FB: I pray every morning and every night.
SA: Tell me about your Persian background?
FB: I would credit my mother for passing on her love of beautiful clothes to me. Sometimes she would make clothes for me to wear. Iran has a beautiful place in my heart and is a lovely memory, but my life and my home is here.
SA: What do you love shopping for?
FB: I love shopping, so I will shop everywhere. But most of the time I buy make-up. A lipstick is the easiest way to change your look. Right now in my make-up bag I have the same lipstick shade (dark red) in six or seven different brands. I guess, I am a bit obsessed with that color right now.
SA: What are some of the fashion lines you're carrying?
FB: If Six Was Nine by Japanese husband and wife, LBG is by them too, but it's a more casual line. There's also Duuya, an LA artist (originally from Mongolia) she creates hand painted silk clothing with different washes. French high-end resort wear SU's range of kaftans and Simona Tagliaferri an Italian designer who works out of Paris.
SA: What's next for you? Ever thought of having your own fashion line?
FB: Maybe, I've thought about it. I love vests so, maybe a line of vest, that are simple and lightweight. I also love easy silk tops. Let's see.
Fetneh Blake
427 N. Coast Hwy.
Laguna Beach, CA
www.FetnehBlake.com
…