The Scent of Good Times
You know those stylish girls that wear the "must have" scent of the season? The ones that display the latest chic perfume bottle on their dresser? You must have met at least one trendy girl that smells like she's just leapt out from one of the scented flaps inside Vogue? Well, I'm not one of them.
Don't get me wrong I'm not a fan of powdery grandma perfumes (sorry Numero 5, I love all the other Chanel scents) but I like to wear something that not so available. I prefer not to smell like the hordes of glam women in the ladies bathroom at the hippest bar in town, even if they do smell nice. And I will hunt high and low to find my scent, the one that captures my imagination as well as my nose.
Penhaligon's Perfume
Penhaligons and I go way back to my college days when I was a Saturday "Harrods Perfume Girl." I used to pass their counter on my way back from my lunch break and spray on Bluebell. The Penhaligon's counter was out of sight. It was closer to the toiletries department where the talcum powders, soaps and body lotions were. They were never really part of the top selling perfumes showcased in the front where we were. Considering I had a choice of any perfume in the world (Harrods has them all), I have no idea why I liked this simple English scent. Even though I was selling the big brand name perfumes (which I enjoyed) when off duty, I liked to wear the lesser known ones. I still do. There's something unique about the fragrances that not everyone knows, the ones with a rich heritage. They offer longevity. If you can find one that meets the demand of our modern aesthetics but with a brand that has history, then you have it all. In this case the English Penhaligon's brand was established in 1870 in London. Mr. Penhaligon started as a barber, opened a hairdressing salon where he made his own products and eventually made his way to the royal court.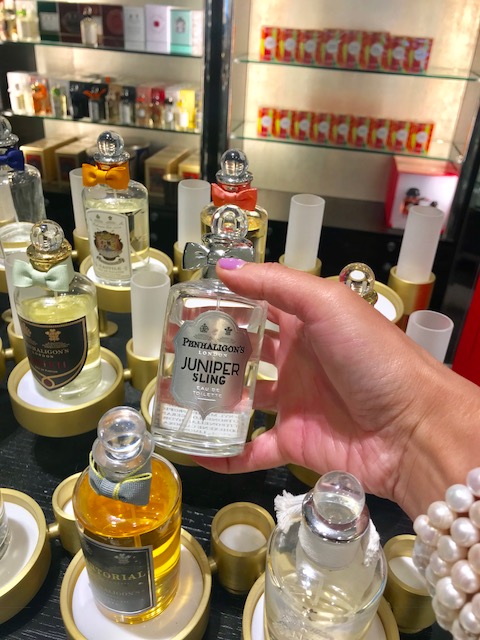 Fast forward a few decades and as I pass by the perfume counter at Bloomingdales recently, my eyes fell on the Penhaligon's counter. It felt like the oddest thing to come across the apothecary shaped perfume bottles sitting pretty in a row, far away from when we first met and locked noses. What's Penhaligon's doing in Orange County I thought? They didn't have Bluebell (which you can buy online)  but after sniffing almost all of the bottles (some were too literal for me), I fell in love with Juniper Sling. The patient sales person described it to me as a midday cocktail.
As soon as he turned around to help someone else, I took the bottle and drenched myself with the fragrance. I didn't want him to see how enamored I was with it, so early on. It was embarrassing how intoxicated I felt. But I was hooked. The fact that I later found out it's listed under mens fragrances didn't phase me the least. In fact I understood why I had taken a liking to it. Inspired perhaps by a real Gin Sling cocktail, this scent gave me the feeling of instant joy and energy. It's fresh, spicy and sweet but not too light, with notes of juniper berry there's something alluring about it. Wearing it gave me a rush, an exuberant feeling of happiness. And who doesn't need a little afternoon pick me up? I certainly do. Salut!