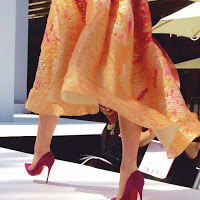 Orange with Pink is the new black.
You know how Fashion Island is 10 degrees cooler than everywhere else in OC? I've now learned that's not always the case. The Art of Fashion which was recently hosted by Neiman Marcus in conjunction with Style Week OC would have been a great opportunity to get excited about the Fall trends, if it wasn't for the heat.
Although the NM magazines placed on each seat were too heavy to be used as fans, I did spot a few resourceful people rip pages out, and in a matter of seconds, create their own, custom, folded origami fans. I discovered, however, that the insert (made of card stock) was far more effective. And so did the lady that sat next to me. Seeing her level of discomfort I advised her to do the same. She then looked at me, like I had just handed her, an electric fan.
The fashion was fabulous. I really mean it. It was fabulous and wearable but I just couldn't get excited about fur, winter coats or Fall colors while my bra melted against my skin and sweat dripped down my forehead. It wasn't a pretty sight.
And then, the show reached a climax when a model's shoe accidentally slipped off. What do you think she did? What would anyone do in 90 degree heat? She kicked the other heel off too and walked down the catwalk with her bare feet, holding her spiked two-tone, Louboutins in her hand, where they belonged. Who could blame her? It made my day. And just then, the DJ played "Papaoutai" a song by my favorite Belgian artist Stromae and at that moment, I realized that all is well with the world, and I was exactly where I was supposed to be. I now invite you, to enjoy some of my favorite looks from the show and listen to the sounds of Stromae, in the comfort of your cool, fully air-conditioned homes.
Enjoy!

Living the glam life.
Neutrals and flats. OK, they're flats to me.
It's all about the heels. Fuchsia, Playboy bunny, tartan and pearl.
Contrast your clutch.
Hot in boots. No pun intended.
Who doesn't like some sparkle and fringe?
Electric blue was a hit. And I saved the best for last.