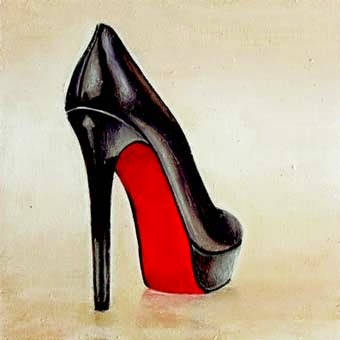 How high can you go?
My first sprained ankle was at the age of five. It was a result of wearing my mother's red platform wedges. The 70s Biba platforms were the perfect shoes to give her the elevation she needed while she wore her elaborate heavy costumes on the stage of the theater. The wedges had a circle cut into the wooden wedge-heel. They were so high I could also fit my tiny wrist through the circle in the wedge all the way to the other side. You'd think this injury, so early on, would have marked me with a sense of caution but instead, it had the opposite effect and somehow, when it came to high-heels, I became fearless.
Who knew that thirty something years later I'd still be obsessed with heels. Like my mother, my petite frame may be to blame. My friends just roll their eyes at me, when I say that, I find flat shoes uncomfortable. Like someone with a bad case of acne, saying how much they love to wear foundation, they think I'm just covering-up another flaw.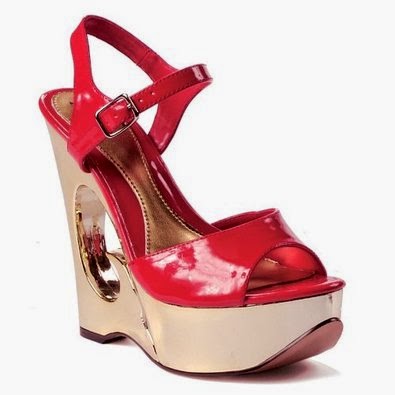 Hole in the heel platform wedge
So you can imagine the turmoil I've been faced with recently, when all of a sudden, as I look around shoe stores from Bergdorf Goodman and beyond and this time, I just roll my eyes. There seems to be a severe case of monstrous heels out there, and it has become and epidemic. There are double heels everywhere, and by double I mean double the size of what I would consider high, and believe me I have quite a tolerance. I didn't think I'd find myself with this predicament, since I usually have no problem with double anything, (double-decker buses, double espresso shots or double layer chocolate cake). For someone who has spent almost her entire life walking in heels you'd think it would be a breeze, right? Not quite.
I've entered uncharted waters. Has my age finally caught up with me? Have I lost my lust for life? Is it time to head over to Clarks like my mom? Or are there other women like myself, suffering (or stumbling) in silence?
My recent episode with trying on this shoe-type left me bewildered, embarrassed and confused. I cajoled myself, into thinking, that all will be well. The sales-person; shy, soft-spoken Adrian, which I prefer to the pushy, loud, fake-friendly type, told me "This one is really popular." This doesn't usually do much for me and the translation for "popular" usually means they're dying to get rid of it, but this time, I was intrigued. He handed me the black double platform shoes, and then went off to help someone else. Thankfully, he left me to my own devices, which meant I could take my time and try them on, on my own. When he came back, he saw the shoes were placed back in their box, (the wrong way around). "What happened?" he asked.
"I felt like Frankenstein, learning how to walk" I said, and then I stood up and did a stiff walk for him saying "Thump," with each awkward step I took. He gave out a loud chuckle, and without looking at me straight in the face, because tears of laughter filled his eyes, he shook his head, even-though he knew, by doing so, he would have no way of convincing me otherwise and that this affirmation, would surely lose him, his commission.
I'm not so practical, to think that I have to actually walk long distances in shoes that I love. But like anything else that we spend a considerable amount of money on, in order to get a higher quality product, shouldn't we be paying for comfort and style when to comes to our feet? Even fabulous people, need to get out of the limo and walk a few steps on the red carpet without falling flat on their faces. Which nearly, happened to me right in the middle of the shop floor.
I'd like just one of these shoe designers to spend an evening in one of their most revered creations. Mr. Louboutin, you red-soled devil, that includes, you too.