. Big hazel eyes that seemed like they carried with them the burden of the entire world.
. The silver bracelet I gave her on her birthday and how it shined on her tiny wrist.
. Her thoughtful cards, always with a picture of a fish or a mermaid, symbols of our Piscean ways.
. The blue "mosaic" Miss Selfridge skirt she bought me, that I still wear.
. Waking up at her house and hearing the news of Princess Diana's death. "They killed her," she said as we cried. We laughed about our love of conspiracy theories and said it must be an Iranian thing.
. The letter she wrote telling me, "I'm finally Mrs. D!"
. The lizard in my shower and how she rushed in, when she heard me scream.
. The black & white polka dot Kookai dress she wore to Circa and how happy she looked that night.
. Her visit to Miami; the palm trees reminded her of Ahvaz.
. The clear shoes episode. How I was mad at her for "copying" me by buying the same pair of shoes as me and then wearing them to Andy's concert (when I had specifically asked her not to). She decided to wear them anyway. "So What? It looked good with my dress," she explained. I'm glad she did. That's how I'll remember her defiant; in her red satin dress and clear shoes.
I'm sure she's up there wearing the most heavenly pair of shoes.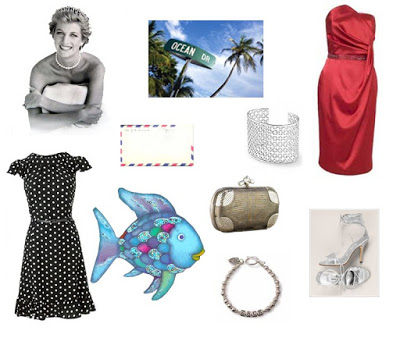 Polka dot dress by Oli
Silver cuff by Banana Republic
Lizard skin clutch by Bottega Veneta
Red satin dress by Oasis
Silver clear shoes by Manolo Blahnik