There's a 1970s revival taking place and this updated insta-ready version is just as potent for today, as it was when writer Tom Wolfe dubbed it the "Me Decade" on the cover of New York magazine in 1976. This time around, you're not confined to being just a Biba babe or a disco diva but a master chameleon. Borrowing styles from past to present offers you possibilities. We're seeing a subtle interpretation of an era where legends as diverse as David Bowie to ABBA ignited the fashion scene with glam rock alter egos and synchronized looks. Isn't the movie "Saturday Night Fever" remembered as much for its soundtrack as for Tony Manero's white three-piece suit and swagger?
Today's version is still playful, minus the polyester shirts, tennis headbands and lilac eyeshadow. There's an echo of adventure that's fresh, but it's no longer about the glorification of breaking the rules that the 1970s were notorious for, instead it's about dressing without little regard for rules. There's confidence in nostalgia, even if it's not first hand. The "me" custodian of today bares as much or as little as she pleases, whether she's wearing a deep cut halter-neck dress or flares and a tight tee, she dances to her own funky beat, in her sky high platforms. And when she grabs her (faux) fur coat to leave just as the party's begun, it's because she's got somewhere better to go to; follow her.
Faux Real
It's no surprise that the faux fur revolution that took off in the era of free love hasn't taken a back seat since. What's not to love about the soft feel, crazy colors and fun textures that a faux fur offers? With semiotic awareness, today's faux fur doesn't try to mimic the real thing, but deliberately celebrates its faux-ness and flaunts it. Oversized sunglasses: optional. Patchwork in the Rye cape coat by Nasty Gal, $198,
nastygal.com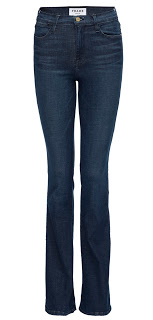 Fit and Flare
Just when we got our legs around the skinny jean, fashion has taken a seventies turn with the reemergence of flared trousers in plaid, corduroy, leather and denim. Don't put away your skinnies just yet, but incorporate your flares as an alternative look. Today's version is fuller than a boot cut but slimmer than a bell bottom which gives you the ideal flattering combo to strut with. Pair them with a ladylike pussy bow blouse for day or a lamé top for night. Embroidered guitar strap style handbag: optional. Le High Flare in Riverdale by Frame, $229, available at Saks Fifth Avenue, South Coast Plaza and
saks.com
.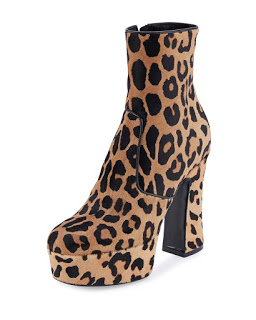 Perfect Platforms
There's nothing better to rock your flares with than a pair of platform shoes. Who doesn't love their sturdy elevation? Not only do they help elongate your legs but they're surprisingly comfortable considering their towering vantage. This season's platforms are bold and chunky, just as they should be and available in a plethora of materials and embellishments making them the focal point of your look and not the side step. Nothing says 70s like the feline flash of leopard print, always considered a neutral and undeniably, something that never goes out of style. Wear them with high waisted flared pants and a solid color top or a contrasting haute-hippie style maxi dress to set you apart. And regardless of how much you love animal prints, it's best to limit their use to one item at a time.  Long skinny scarf: optional. Candy platform boot in leopard print by Saint Laurent, $1595, available at Neiman Marcus Fashion Island.
NM.com