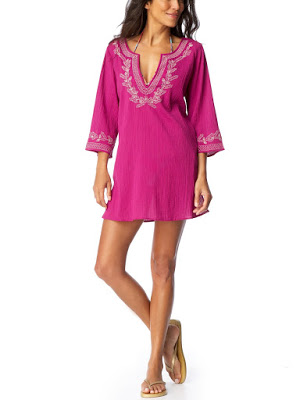 Although summer time is all about uncovering, I've found the perfect beach cover-up. I've been looking for something that dries easy and that I can wear over my bikini without feeling like a complete idiot. Most cover-ups don't cover much. I choose to buy mine in a bright fuchsia color that reminds me of the blooming bourgainvilleas all over Laguna Beach.
When the sun sets, this cover-up can be easily transformed into a cute tunic top and worn with a short denim skirt or leggings.
Cotton cover-up with silver embroidery, $24.50 available at Old Navy.
Warning: you may be tempted to buy this in more than one color.