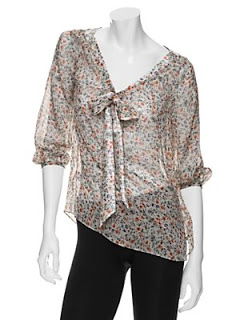 Intermix drives me gaga. Who's the buyer? I'd love to know. If it wasn't for a small thing such as a price tag getting in the way, I could walk away with everything they have in the store.
From the one on Collins Avenue in Miami with its caftans and beach style to the hip styles and designers of the one in South Coast Plaza, its refreshing to walk in to a store where every item has been handpicked.
Vintage inspired chiffon scarf blouse by Vera Wang Lavender Label looks so much better in person than in this photo. Gorgeous but overpriced at $285 for a tiny piece of chiffon. I'm off to Jo Ann's.