London Based Designer Creates Jewelry Beyond the Ordinary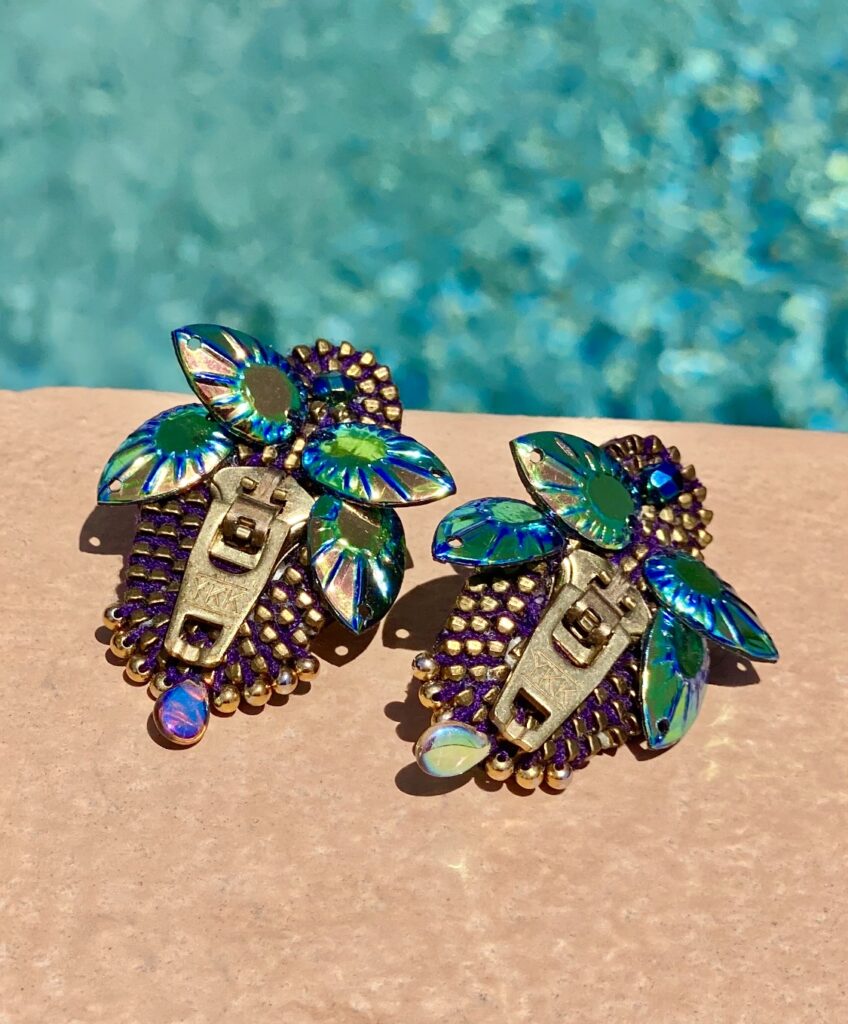 When I stumbled on a pair of zip earrings on Instagram, I had no idea, they were by London based, Jamaican born designer Shanel Brown.
Some of you may know that London is my hometown, and so I'm not surprised that I had gravitated to her urban style. I love the idea of taking an ordinary object like a zip and transforming it into something magical. Designer Shanel Brown shows us her whimsical collection that's part futuristic part Steampunk with a dash of Romanticism thrown in.
I am delighted to collaborate with her and wear her unusual pieces. And although we've never met, after this interview I believe I'm able to give you a peek into her world and hope you enjoy her point of view and her unusual handcrafted creations as much as I do—with zips, baubles, pearls, iridescent scarab like creatures and all!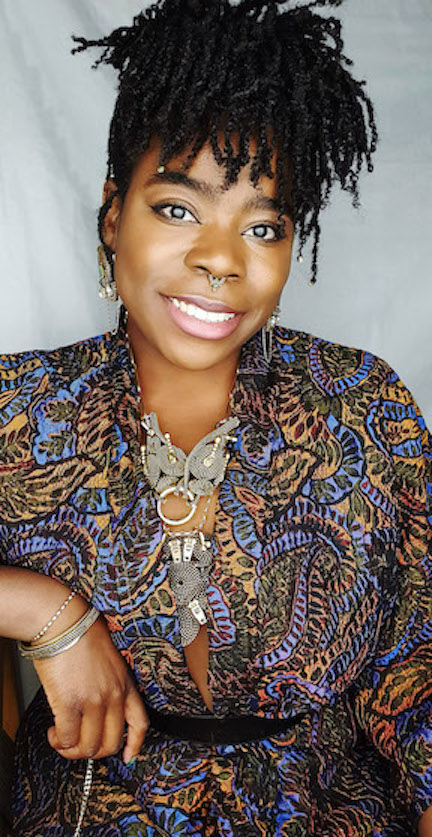 Name: Shanel Patrine Brown
Background: (School/education): Ravonsbourn University, The University of Northampton BA(HONS) in Textiles for Fashion
Tell us about where you live: I live in one of the biggest fashion capitals of the world, London.
Tell us a little about your family or personal life: I came from humble beginnings, born in Jamaica in 1993 and moved to the United Kingdom at the turn of the millennium, 21 December, 1999, it was a very exciting time to be in a new environment and the beginning of a new life in the U.K.
How did you get started? I joined The Prince's Trust which is a charity that helps young people get started in business here in the U.K. (Founded by HRH The Prince of Wales, Prince Charles)
Describe your brand in two words: Artisan & classy
Give us an in-depth description of your brand: Shanel Brown is a jewelry/fashion brand, catering to those who are looking for something beyond the mundane. Handmade jewelry crafted from brass zips. Bringing the artistic fashion forward woman something new and exciting. I believe in slow fashion and appreciate the garments and jewelry that we wear, selecting higher quality pieces that last more than one season.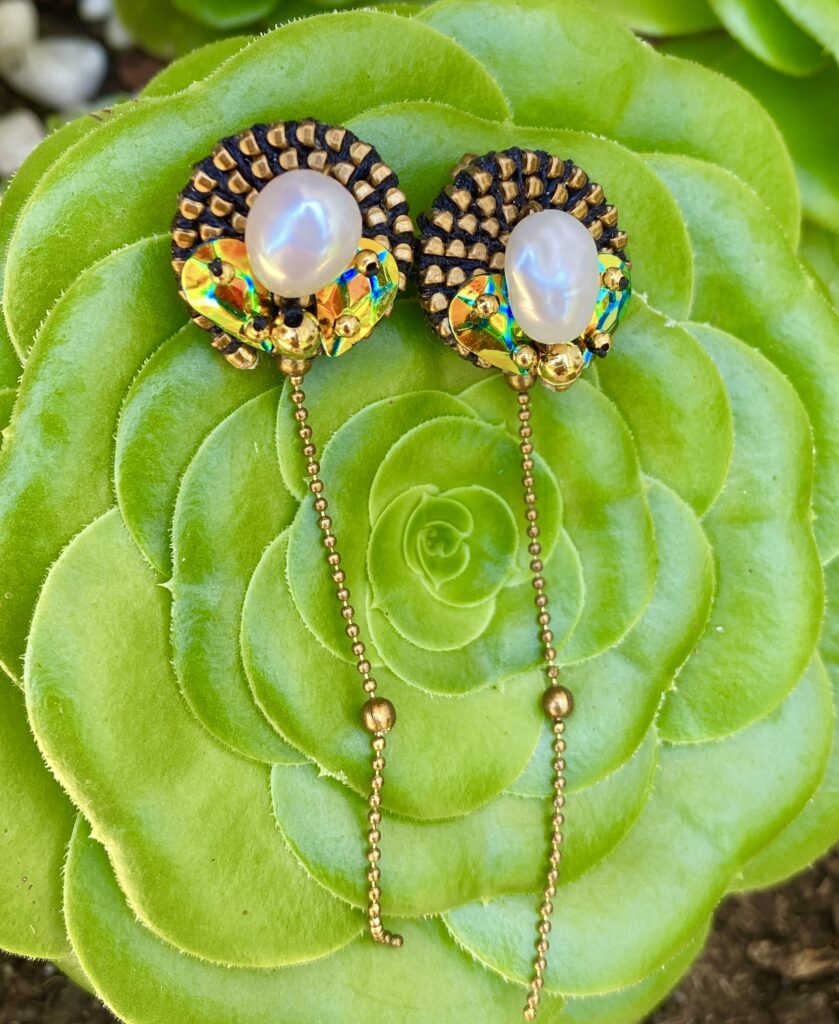 What sets you apart? I've taken an object that no one really gives a second thought to and made it into something beautiful. The zip is such an important element to your clothing, it helps to secure your garment. I've taken the humble zip, an item that's taken for granted and given it value, a new meaning and a new life.
Tell us about what you're wearing in this photograph (above)? Is the jacket designed by you? Yes, I made the jacket. I decided last year to sell a majority of my clothes and replaced them with more organic fabrics and clothing that I've made. Investing in more expensive fabrics and shopping at dead stock fabric shops.
When did you decide you would like to be a designer? For as long as I remember I've always wanted to be a designer. As a child, I took more of an interest in drawing, painting and sculpting than anything else, I was excellent. My interest in clothing runs in the family as my grandparents were tailors, so it's in my blood. I was obsessed with making clothing for my Barbie dolls, I was always sketching new things to make with different colours and prints.
What do you design? I design clothing and jewelry. I decided to concentrate on jewelry because it's easier for me to make a business from without a huge funding.
What's your first jewelry memory? Getting my ears pierced for the first time and being excited about wearing earrings and how jewelry elevated one's beauty. My first love was gold hoop earrings, it reminded me of the Queen's crown. I also remember the dread I'd felt when swapping them for small stud earrings for school.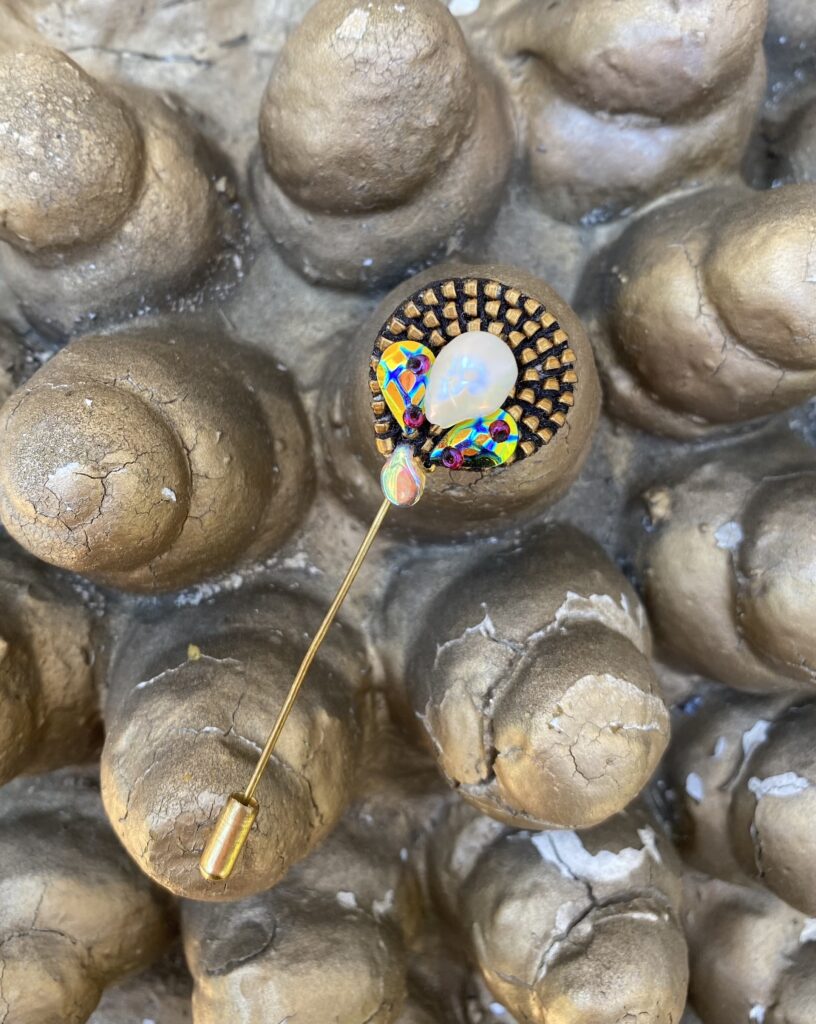 How did you come up with the idea of using zips in your jewelry? It all started as a project at university, we had to make an everyday item into a wearable fashion item. Now most fashion students went to the museum to find inspiration. I decided to take the less ventured path and I went to the charity shop. There I found a small terrarium with a dismantled watch crafted into the shape of an insect. It wasn't a lightbulb moment but it was an interesting find nonetheless. I then examined the watch and the beautiful exposed clogs and bolds. I wanted to recreate this with a twist, and just like that the idea to use zips came into mind and their creation was born.
How do you make the jewelry? They are all hand made by myself. I hand sew the brass zips together stitch by stitch with a needle and thread. It's quite meticulous.
What does jewelry mean to you? Jewelry is a symbol of who you are and your personal link to your artistic nature. Enhancing your beauty and confidence, it shines alongside you.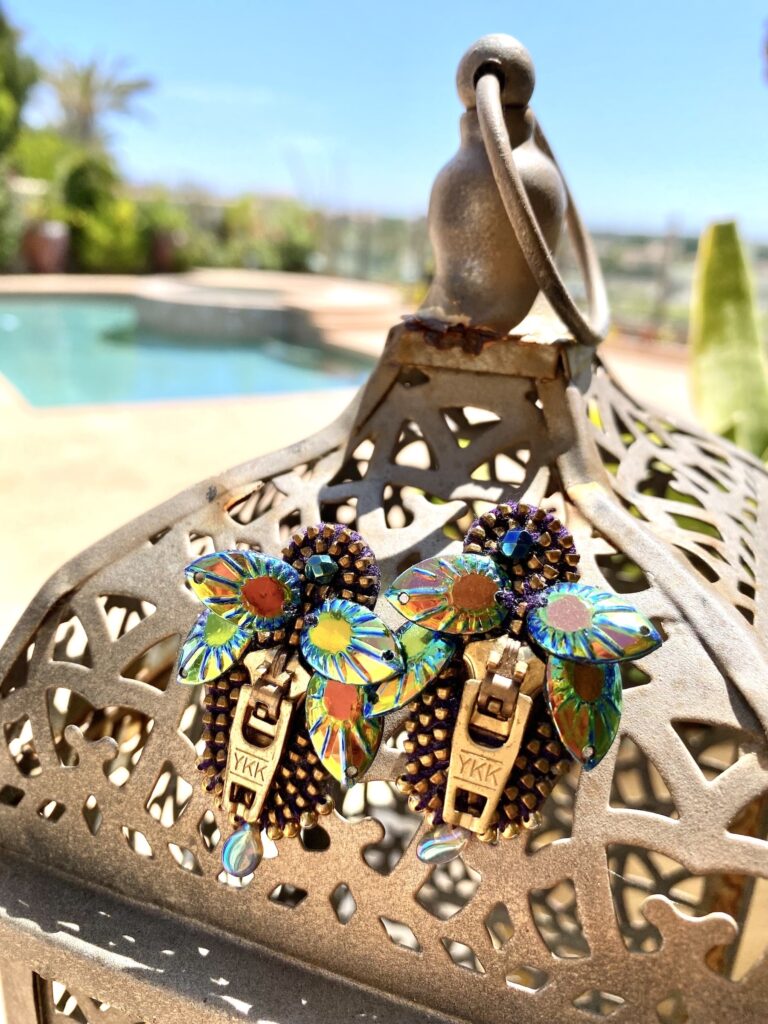 What piece of jewelry do you always wear? I always wear earrings that I make, no matter where I go. I will wear the smaller versions (the pic) for example to the supermarket vs. (the Grand Don) on a date night with the hubby. I love artistic jewelry like scifi /fantasy as well as jewelry from different cultures. I also have a septum ring that I never go without.
Favorite medium to work with in your designs? Adding iridescent and semi-precious elements like pearls and opals to my jewelry.
Favorite color and why? Violet, it just speaks to me on a spiritual level. I'm so drawn to this colour and its depth, it represents royalty and luxury, for me it's a beautiful colour.
Favorite jewelry designer? Bibi Van Der Velden, Schiaparelli and Dylanlex, they all create amazing jewelry that inspires me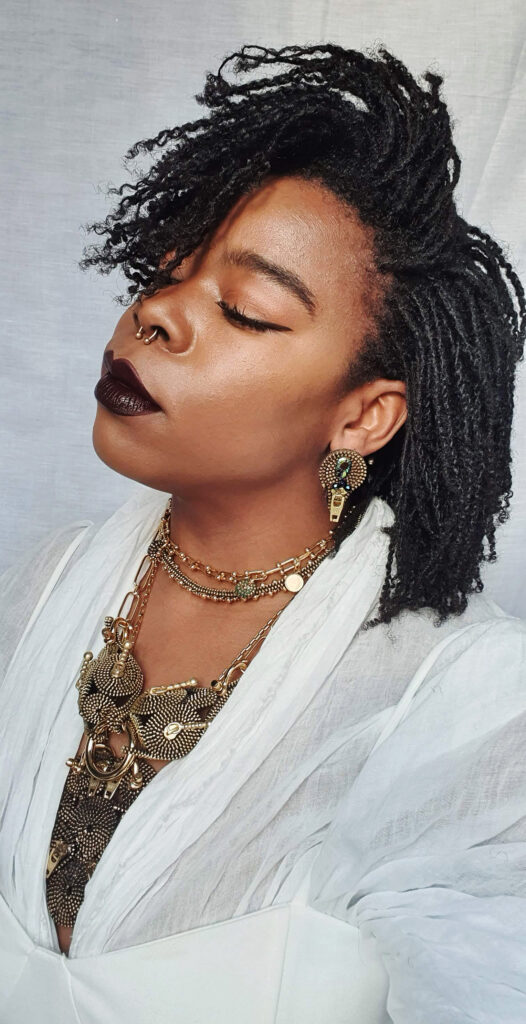 Favorite fashion designers/fashion houses? In no particular order: Manish Arora, La Doublej, Mary Katrantzou, Etro & Hermes.
What does fashion mean to you? To me fashion is an expression of one's personality. You can tell a lot about a person from the clothes they wear. It's also art, it's the story you tell. Fashion is not just for the rich and famous, it's for the world, it's culture!
Who would you like to see wearing your designs? I would love to see a famous celebrity wearing some Shanel Brown classic pieces. Also, someone who adores them just as much as I do.
What are your passions in life? Colour, texture, vibrancy and wearable art and fashion, Neo-Soul, Jazz, traveling and taking in new cultures and foods.
Favorite city? Rome, has a bounty of history and art, delicious Italian food and the culture, it's a beautiful city.
Favorite artist(s)? Dante Gabriel Rossetti of the Pre-Raphaelites. William Morris, Bruce Riley, Kehinde Wiley, Jeremy Combot & Gustav Klimt.
The last book you've read: It was the Rich Dad Poor Dad by Robert T Kiyosaki.
Favorite quote: Life is too short to wear boring clothes/every day is a special occasion, so wear that dress!
What's next for you? To have Shanel Brown earrings sold in Liberty London or another high end department store.
For more info visit: shanelbrown