The Scent of Royalty 
Just as the kitchen is the heart of a home, the beauty department is at the heart of a department store. And that's where the two worlds of Clive Christian collide.  Known for creating bespoke interiors and furniture, the British designer was one of the first to bring the crystal chandelier into the kitchen. So it's no surprise that his namesake perfume company is synonymous with using the finest, exotic ingredients to create exceptional perfumes, showcased in the most luxurious bottles and flacons.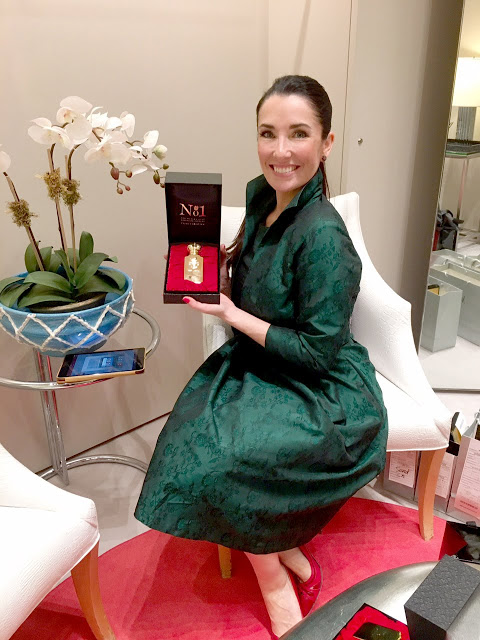 Victoria Christian daughter of Clive Christian holding the Nº1 perfume case at Neiman Marcus, Fashion Island. Nº1 is known as "the most expensive perfume in the world." Nº1 perfume spray for women by Clive Christian, 1.6oz, $865 available at Neiman Marcus. Photo by Sabrina Azadi.
I was first introduced to the Clive Christian fragrances, by his daughter Victoria Christian many years ago. To this day the process, reminds me of my olfactory innocence. The fragrances weren't like anything else I had inhaled or anything else on the market. Unlike the fad fragrances that are fashionable for a season, there is a longevity to these fragrances, and that's because you have to love them to wear them. You'll never just "make do" with a Clive Christian fragrance because like a great love, they're to be admired, pursued and cherished.
If you're looking for instant gratification these fragrances are not for you. As with all absolute perfumes, wearing them means embarking on a journey, one without a compass (or a GPS) not knowing where the final destination will be. It's best to spritz the fragrance on your skin without rubbing it, so as to not bruise it, and then allow it to settle. The next step is to do nothing. You have to be patient, and give it time to develop. One spritz or a drop is all you need and depending on your body chemistry and your environment, each layer that's unveiled will hold a language of its own, that's unique, to you. Unlike many fragrances on the market, these fragrances are not going to reveal themselves to you immediately, like a fine wine that's sipped slowly, enjoy them sparingly. They're also worth the wait, because once you've discovered your match, it's unlikely, you'll stray. It's also rare to find anyone else wearing them, which is a novelty I like, and if you do, it feels like a secret shared, between friends and connoisseurs.
The Crown Perfumery, first established in 1872,  has a rich history, which is why it appealed to Clive Christian when he decided to purchase and revive it in 1999. Queen Victoria had given her seal of approval to the company. And now, another Victoria, the daughter of Clive Christian, along with her father at its helm, are taking it forward, into a new era.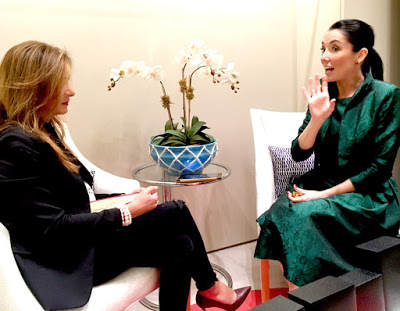 My interview with Victoria Christian
Victoria Christian was recently at Neiman Marcus, Fashion Island, where I had the chance to sit down and chat with her about the past, present
and future of this brand that holds the coveted title of being "the most
expensive perfume in the world." I also had the opportunity to get a
spritz of the soon to be launched Neiman Marcus exclusive, a limited
edition; 1872 with a twist of Mandarin, which is sublime.
SA: We met almost 10 years ago at the Neiman Marcus in Miami, where you introduced the Clive Christian perfume collection to me and I had the pleasure of interviewing you, over coffee. We meet now at NM Fashion Island, how has your luxury brand evolved
over the last 10 years?
VC: How time flies! And how lovely to be meeting after so
many years on a different Coast and yet still celebrating this historic
perfume house! What a testament to the quality and timelessness of the
perfumes that they are still enjoyed by so many across the country!
Since we met my father Clive has released six new perfumes
– three pairs – from his Private Collection. 'C', 'L' and 'V' perfumes
all wear the same amber color glass bottle which was the color of the
private commission perfumes in the archives of the Crown Perfumery and the Collection has a distinct personal feel. The more masculine versions of the pairs all carry a precious Oud wood at their base which brings a hallmark smokey, woody, confident complexity to the perfumes and the more feminine versions of the collection are a celebration of some of the most prized notes from the Victorian era – 'C' has an operatic note of Tuberose which was the Victorian symbol for voluptuous, forbidden pleasures and yet has a quiet, sensual finish and the 'L' has the unusual Davana, reminiscent of green, lush rain forest leaves and has a feeling to me similar to when sunbeams land on your face it is so bright and delightful!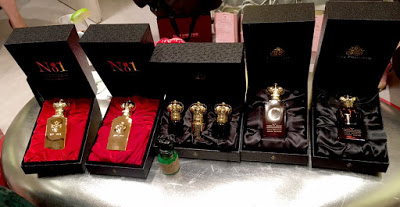 A display of some of the Clive Christian perfume collection, for men and women.
SA: What's the different aspects of working with your father, Clive Christian, and being the only sibling in the business?
VC: I am the eldest of three girls and have always had a strong
connection with my father, Clive. We share the same humor which is always
a great foundation for a relationship of course! I feel very lucky to have
been raised by a gentleman who has a deep appreciation for life – I have
learned to take time to enjoy a sunrise and a sunset, and perhaps most
importantly to listen to my heart and to make decisions based on integrity
and a feeling of love rather than a monetary motivation. My father has
taught me this and I believe it is evident in his work, his designs and
his creations. I feel very fortunate to represent my family business and to have the opportunity
to work alongside a great British designer who has been recognized by Queen
Elizabeth II for his contribution to British luxury.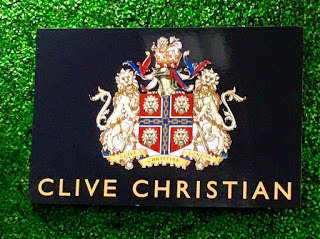 The Clive Christian coat of arms awarded to him in 1999 by The Royal College of Arms. He was appointed Officer of the Order of the British Empire (OBE) in 2012.
SA: Tell me about your first fragrance memory?
VC: My father has always kept beautiful rose gardens in England
and the scent of natural English roses after the rain has such a delicate
captivation – a little like you might imagine Turkish delight. I was and
still am transfixed by this perfume and we harness rose in its absolute
form at the heart of many of our perfumes – in particular the 1872 for women which carries the beautiful May Rose at the heart and requires 170
of those roses for every single drop.
The 1872 perfume spray for women a floral, fruity, citrus fragrance perfect for summer days and nights. (100ml $495). 1872 is the year The Crown Perfumery was established.
SA: Is it true that the Clive Christian perfume is the most expensive perfume
in the world? And if so why?
VC: Yes – when Clive created The No.1 Perfumes it was his
wish to design a pair of perfumes that were simply the best – the No.1. He wanted a perfume that harnessed the rarest and most precious
natural ingredients in their purest form – the absolute – the notes that
most fragrances do not use due to their high cost and low yield. Rare Indian
Sandalwood aged from 30-50 years and Madagascan Vanilla which takes six
months to crystallize – he was not expecting for the perfumes to become
the most expensive in the world – however when The Guinness Book of World
Records announced this we decided to embrace it and to use this recognition
to help us to reignite the conversation of what it takes to create a true
luxury perfume and all the stories of what goes in to creating each complex
drop.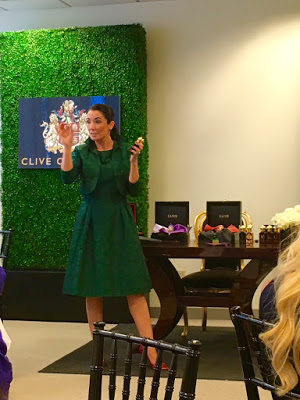 Victoria Christian hosts a private reception at NM Fashion Island.
SA: The perfume house has a long history, heritage and even a royal crown,
tell me about that and how it has influenced your brand.
VC: Queen Victoria granted the image of her crown to this
perfumery in 1872 and it had held a very special place in her Royal court
and within her marriage to her husband Prince Albert. They had perfumes
commissioned for various special occasions in their life and these perfumes
were greeted as a matched, complementing pair – so they were united, connected
invisibly through their perfumes. Clive Christian has maintained this tradition
and all the perfumes in our collections are presented as matched pairs
– however today, in this modern world our boundaries are so different –
nowadays I find our clients are connoisseurs and many wear the pairs together
– for example a spritz of No.1 for women and spritz of No.1 for men – it
brings a third element to the perfumes – rather like two wings of a butterfly.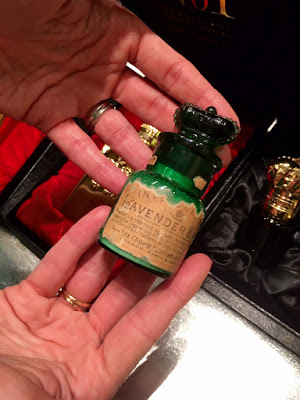 A sealed original bottle of lavender salts from The Crown Perfumery from 1800's which has inspired the current perfume bottles. The Crown Perfumery was the perfume available on the first class cabins of the Titanic.
SA: With the thousand of perfumes available, tell me about the people who
choose to wear your fragrances and what makes them want to wear the very
British, Clive Christian brand?
VC: It's true that every year over 1000 different fragrances
are launched and sadly it is true that over 90% of these fragrances have
been discontinued within two years of their launch. Each perfume launch
within the Clive Christian Perfume Collections is considered and curated
by Clive so that they will not date and will remain a timeless addition
to your perfume wardrobe. I have been wearing X for Women paired with X
for Men for almost 15 years and each time I am complimented on my perfume
– which invariably brings a spring to my step! And it does help that with
every drop you are connected to a piece of great history from a perfume
house that was so adored by our Queen Victoria that she granted the image
of her crown! Nothing better than feeling like Royalty!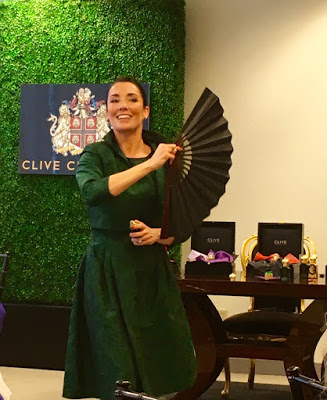 Victoria uses a fan to introduce each fragrance as was the custom in Victorian England.
SA: You're surrounded by perfume in your professional life, but what fragrance
do you like to wear when you're not at work? 
VC: To quote Confucius, "make your passion your profession
and you will never work a day in your life" – I do not really consider
what I do to be work – I love perfumes and it is an honor to represent
this historic perfume house – my perfume wardrobe is fully stocked with
the Clive Christian Perfumes and they are my invisible accessory for every
day of my life and every occasion – on my wedding day in 2014 I wore No.1
for Women and my husband wore No.1 for Men (1+1=3!) and now this perfume
holds a very special memory of the most wonderful day of my life!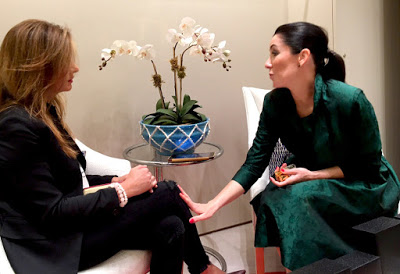 Victoria talks to me about the soon to be launched limited edition 1872 with a twist of Mandarin and 1872 with a twist of Vetiver.
SA: What's next for your perfume collection and the Clive Christian brand
and what are you telling us here at Neiman Marcus Fashion Island?
VC: I am very excited to share a preview of our newest launch
which will be exclusive to Neiman Marcus – the 1872 Limited Edition with
a Twist! This new launch takes the heart of the classic and well loved
citrus perfume pair 1872 and adds a new dimension to their invigorating
complexity – the 1872 with a Twist of Mandarin adds a burst of joyful Mandarin
for a bright body and the 1872 with a Twist of Vetiver brings a clean,
fresh finish and a subtle glow. Each bottle is individually hand numbered
1/1000 and signed by Clive. They are incredibly vibrant and perfectly capture
the feeling of Californian sunshine!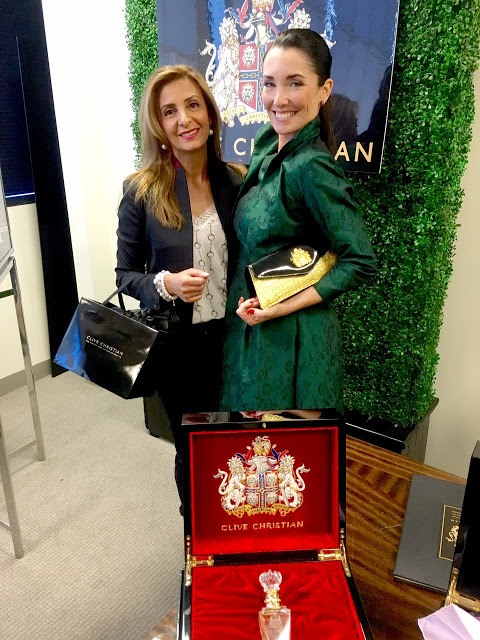 Victoria and I after the presentation. Also seen here is a bottle of the Nº1 perfume. Clive Christian was also commissioned to create a unique presentation of a matched pair of the Nº1 perfumes, a his and hers for Prince William and Katherine (Duchess of Cambridge) for their wedding. Their perfume bottles were hand-cut crystal with a brilliant-cut diamond solitaire embedded in them, and their initials etched in gold. A gift fit for royalty.
….